BOA Management Readies to Lift Norwegian Sinking Frigate
Norwegian offshore service provider BOA Management has started preparatory work for the salvage of now almost completely submerged Norwegian frigate Helge Ingstad.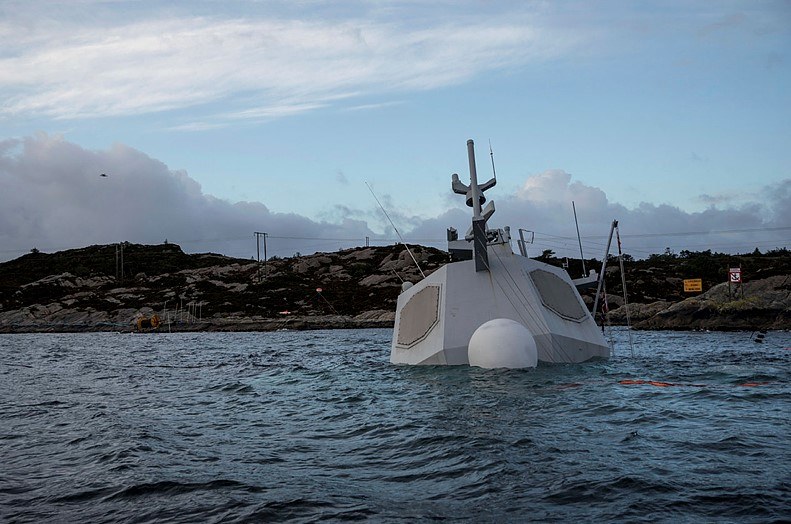 The work is said to be supported by DNV GL as an external consultant.
The plan is to gradually lift the vessel and transfer it to one of semi-submersible barges of BOA Management.
The salvage operation is expected to last around three weeks. The frigate is expected to head for Haakonsvern, the main base of the Royal Norwegian Navy and the largest naval base in the Nordic area, at the beginning of December.
However, the overall salvage operation is dependent on many conditions including weather, stability of the vessel and environmental considerations, the Norwegian Navy said.
Once lifted, it would be possible to conduct thorough damage assessment of the vessel.
As World Maritime News reported, Helge Ingstad almost completely sank on November 13, despite being anchored to the land, with only the vessel's radar tower protruding above the water.
According to the navy, there is still a risk that the vessel might slide further into the water. Activities are underway to stabilize the vessel.
The frigate started listing after colliding with Sola TS oil tanker at the Sture terminal in Øygarden, Norway, on Thursday morning, November 8. Eight people sustained minor injuries and 137 people were evacuated from the Norwegian frigate.
There were 23 people on board the oil tanker Sola TS when the collision occurred and there were no reported injuries. The Maltese-flagged Aframax, part of Tsakos Energy Navigation's fleet, did not sustain damages below the waterline.
A minor fuel spill has been detected around the vessel, the leakage was dubbed as non-actionable as the thin layer of helicopter fuel was expected to evaporate and dissolve naturally.
The Norwegian Coast Guard is monitoring the scene and working on curbing further pollution from the vessel.
World Maritime News Staff