Borr upbeat about market amid strong tendering and contracting activity
Offshore drilling contractor Borr Drilling is optimistic and encouraged by signs of shallow water rig market recovery amid strong tendering and contracting activity, clearly visible in the rig owner's latest contract wins and extensions.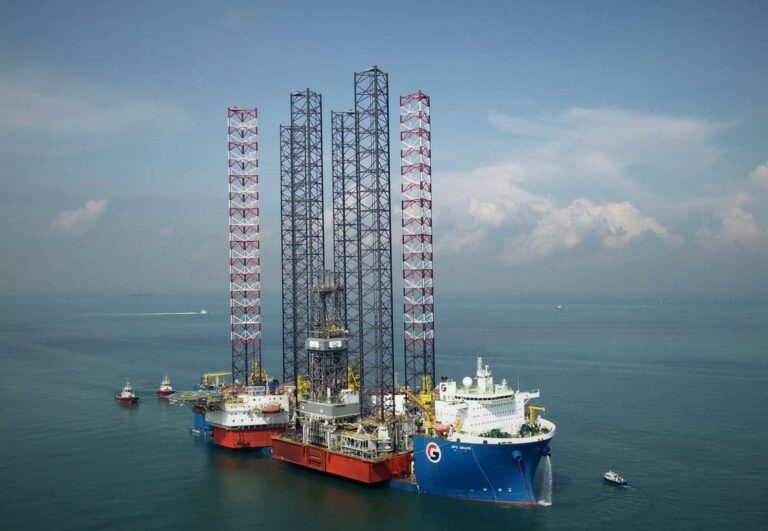 The company and its Drilling JVs have been awarded 17 new contracts, extensions, exercised options, and LOAs/ LOIs from the start of 2021 to the end of May, representing 5,352 days, or 14.7 years, of potential backlog and $458 million in potential revenue.
Borr Drilling CEO, Patrick Schorn, commented: "We are encouraged by the signs of a recovering shallow water rig market so far in 2021. The number of Borr operating rigs stood at 13 at the end of the first quarter, up by five units from trough levels experienced in 2020. Tendering and contracting activity remain strong.
"Since the beginning of this year, Borr has secured new contracts and confirmed optional periods with a total revenue potential of approximately $162 million, excluding unexercised option periods.
"Additionally, the company and its Drilling JVs have secured LOIs and LOAs, that once converted into contracts will add a total revenue potential of approximately $296 million. We are optimistic about the market opportunities going forward, and expect to see several of our currently warm stacked rigs coming back into operation at accretive rates".
In its fleet status report on Monday, Borr said that, following a letter of intent, it has signed a contract for the Prospector 1 rig with Neptune for operations in the Netherlands from May 2021 to August 2021 and from December 2021 to March 2022. As previously reported, the value of the contract with Neptune is $21.4 million.
Furthermore, Borr has also signed a contract for the Prospector 1 rig with Tulip in the Netherlands. The contract is from August 2021 to October 2021. Tulip has also exercised an option for the 2013-built rig from October 2021 to November 2021.
Furthermore, BW Energy has exercised an option for the Norve jack-up in Gabon from August 2021 to September 2021. The contract was previously supposed to end in July 2021. This rig has also been awarded a letter of intent with an undisclosed operator, also in Gabon, from December 2021 to April 2022.
The Idun jack-up has been assigned a contract by Petronas in Malaysia which will last from June 2021 to January 2022. The rig has previously been under contract with Vestigo from March until May 2021. 
The rig started its contract with Vestigo in March 2021 for ten firm wells with an estimated duration of 315 days. Subsequently, seven of the ten wells have been novated to Petronas.
Thailand's PTTEP has exercised an option for the Gunnlod jack-up in Malaysia, which will see the rig continue to operate for the company from May 2021 to September 2021. The rig owner said that the contract can be extended by four further optional wells, which would keep the rig active for the remainder of 2021.
Following a letter of award for the Skald rig, Borr has now signed a contract with PTTEP in Thailand from June 2021 to June 2024. The rig has been in Singapore preparing and mobilising for the contract since February 2021. 
Borr has also signed a new contract for the Natt jack-up rig with Oriental in Nigeria. The contract was scheduled to start in May 2021 and last until September 2021. Before this, the rig had operated for First E&P, also in Nigeria.
When it comes to new LOAs, Borr said that the 2018-built Saga jack-up rig has received a letter of award with an undisclosed operator in Malaysia for operations from September 2021 until August 2022. The rig is currently under contract with PTTEP / JX Nippon also in Malaysia. This contract is scheduled to end in August 2021.
Mexico business
Over in Mexico, Pemex has awarded an incremental work scope to five of Borr's rigs with an end date for all rigs being in December 2022. 
Specifically, the work scope for the Grid and Gersemi started in March 2021. In addition, the Odin rig is set to start in August 2021, the Galar in October 2021, and Njord in January 2022.
Schorn added: "Part of our liquidity improvement plan outlined in our Q4 2020 report has been to pursue initiatives to improve cash distributions from our JV operations in Mexico. Year to date, Borr has received $15 million in cash from its JVs which is a considerable improvement compared to previous periods. 
Two of Borr's JVs in Mexico provide Integrated Well Services (IWS) and the other two Joint Ventures provide contract drilling services to the IWS business on fixed day rates. IWS in turn provides integrated well services to Pemex.
As previously reported, Borr had been in a challenging financial situation in 4Q amid a difficult market environment combined with payment delays for its rigs working for the Mexican oil giant Pemex.
Schorn continued: "The IWS JVs have added roughly 125,000 BOPD to Pemex's production and we continue to receive very positive feedback from the customer regarding service quality and performance. In addition, we are pleased to announce that according to the latest activity plans in the IWS JVs, we expect that our five rigs in the country will continue providing services for the project until the end of 2022".
Borr narrows loss but revenues down
In the first quarter of 2021, Borr booked revenues of $48.4 million compared to revenues of $104.1 million in 1Q 2020. Total operating revenues include a reduction of related party revenues of $9.2 million recorded in the first quarter of 2021 relating to prior periods, following an amendment of Mexican JV agreements regulating the treatment of standby rates.
The rig owner recorded a loss of $58.1 million in 1Q 2021 compared to a loss of $86.9 million in the same period of 2020.
Borr's technical utilization for the fleet was 99.5 per cent in the first quarter of 2021. The economical utilization was 88.7 per cent for the first quarter of 2021, negatively impacted by idle time for three rigs waiting between wells in Mexico.
Borr has also provided contracting information about the global drilling market. According to Borr, at the end of March 2021, a total of 345 jack-up rigs were contracted, up from 340 rigs as of December 31, 2020. 
For modern rigs, the contracted rig count stood at 248 versus 97 standard jack-ups, representing 72 per cent of the contracted fleet.
From the competitive jack-up fleet, a total of three rigs were retired in the first quarter 2021 and ten rigs year to date, compared to 21 rigs in 2020 calendar year, which brings the total number of rigs retired since 2017 to 119 (22 modern and 97 standard), according to Fearnley Offshore.
As of May 2021, there are still 46 rigs more than 30 years old which are uncontracted. Borr maintains its view that a significant number of these will become commercially and technically uncompetitive in the coming years.
Since the beginning of 2021, Brent oil price has consistently traded above $60/bbl, a price level that makes a large range of shallow water projects economically viable Improving oil price coupled with forward prices now being back at pre-COVID levels are likely to trigger significant demand for incremental jack-up drilling rigs.
Borr Drilling's current visibility in tender and direct negotiations stands at 21. This is a significant improvement from the levels seen during 2020 and is approaching the late 2019 levels.