bound4blue's wind-assisted propulsion systems get financial boost
Agricultural company Louis Dreyfus Company, French containment specialist GTT and the European Commission have invested in bound4blue's Series A funding round, becoming shareholders of the company.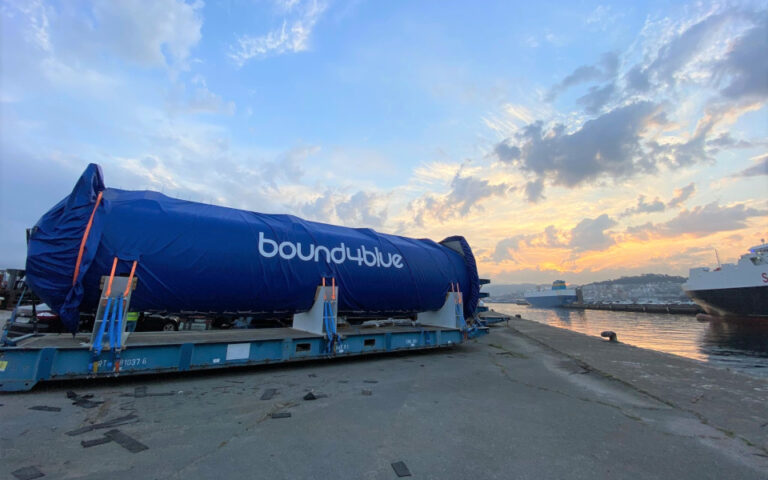 The funding round was led by GTT Strategic Ventures, with the participation of the EIC Fund (European Innovation Council), Shift4Good, Louis Dreyfus Company Ventures, the Sustainable Ocean Alliance, Sun Returns, Kai Capital and existing investors including the Ocean Born Foundation and CDTI (Centre for the Development of Technology and Innovation) through the co-investment initiative of Innvierte program.
This financing is further complemented by a €4.1 million grant from the Innovation Fund Program, awarded by CINEA (European Climate, Infrastructure, and Environment Executive Agency) in 2022, and an additional grant of €2.4 million previously awarded in 2021 by the EIC Accelerator Program, bringing the total financing to €22.4 million.
According to boud4blue, the funds raised will be used to help the company roll out its pioneering suction sail system (eSAIL), as well as scale up to meet demand for zero-emission propulsion solutions in shipping.
"We're delighted to welcome the new investors onboard. Their wealth of knowledge and expertise in shipping and financing represents a momentous step that will steer our company towards even greater development and global expansion. With their support, we'll continue steadfast in our mission to drive the decarbonisation of the shipping sector, making wind propulsion a standard on ships," José Miguel Bermúdez, CEO of bound4blue, said.
"Through its VC fund, GTT Strategic Ventures, the GTT group is proud to support the development of bound4blue, which contributes, through its unique wind-assisted propulsion technologies, to meeting the challenges of decarbonising maritime transport," Philippe Berterottière, Chairman and CEO of GTT, commented.
Founded in 2014, bound4blue develops wind-assisted propulsion systems (WAPS), known as suction sails, allowing ship-owners and ship operators to reduce their fuel consumption, to enable a more sustainable and economically efficient shipping.
The technology developed by bound4blue, derived from the suction sail designed by Commandant Cousteau in the 1980s, can be used in a large number of segments (LNG carriers, bulk carriers, tankers, Ro-Ro, general cargo, ferries and cruise ships).
The wings are expected to significantly reduce ship fuel costs and CO2 emissions by up to 30% on favourable trade routes. They also enable vessels to strengthen compliance with the measures of the International Maritime Organization (IMO) aimed at reducing the carbon intensity of international maritime transport.
The bound4blue technology is currently installed on three vessels, the most recent of which is the EEMS Traveller, a cargo vessel operated by the Dutch ship-owner Amasus Shipping and equipped with two 17-meter-high suction sails.
bound4blue has also recently announced a partnership to install its system on a chemical tanker, making it the first tanker vessel in the world to harness this technology.