BP's Argos platform floated onto Boskalis vessel for transport
Oil major BP's Argos platform, built for the Mad Dog 2 project in the deepwater Gulf of Mexico, has been loaded onto a Boskalis vessel ahead of transport from South Korea to the U.S.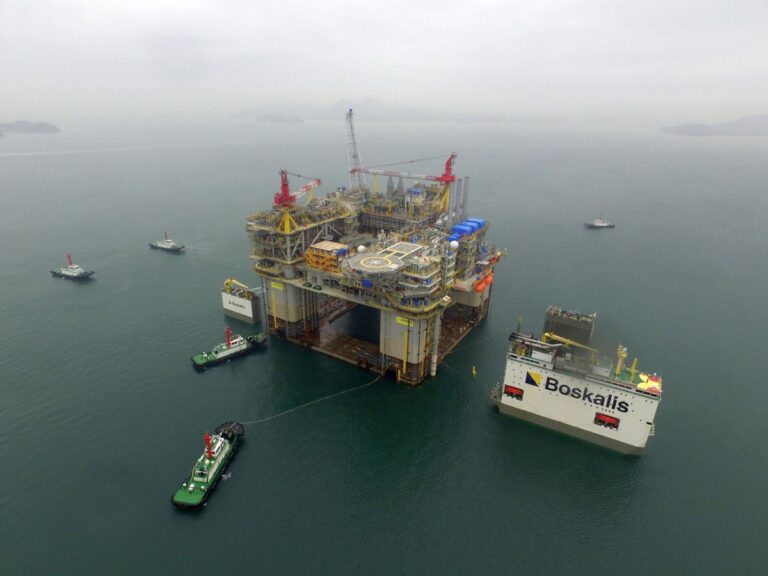 BP named the new platform Argos for the Mad Dog 2 project back in November 2018. The name is a reference to Odysseus' loyal dog and a nod to the Mad Dog spar, BP's existing production facility that is located about six nautical miles away from the Argos site.
The hull and topsides of the Argos platform were built by Samsung Heavy Industries in South Korea. The first oil production from the facility is expected in late 2021.
In an update on Friday, Boskalis said that the large Argos floating production unit (FPU) weighing nearly 70,000 tons was successfully floated onto Boskalis' semi-submersible heavy transport vessel BOKA Vanguard last Tuesday.
Boskalis noted that the vessel was submerged well over 29 meters to make this happen.
"After years of engineering and preparation, a first impressive operational milestone in transportation from Korea to the USA was reached. The next day, the BOKA Vanguard with its cargo sailed to the quayside for sea fastening and sail-away readiness", Boskalis stated.
BP discovered the Mad Dog field in 1998 and began production there with its first platform in 2005.
Continued appraisal drilling in the field during 2009 and 2011 doubled the resource estimate of the Mad Dog field to more than 4 billion barrels of oil equivalent, spurring the need for another platform at the field.
The final investment decision for the $9 billion project was approved by BP, as the operator, in late 2016 and in early 2017 by co-owners BHP and Union Oil Company of California, an affiliate of Chevron.
The second Mad Dog platform will be moored approximately six miles to the southwest of the existing Mad Dog platform, which is located in 4,500 feet of water about 190 miles south of New Orleans.
The Mad Dog 2 project includes the Argos platform with the capacity to produce up to 140,000 gross barrels of crude oil per day through a subsea production system from up to 14 production wells and eight water injection wells.
The project will help extend the life of the super-giant Mad Dog oil field beyond 2050.