Brand new 14.7MWp floating solar plant emerges in France
Canadian renewable energy developer Boralex has commissioned its first floating solar farm in southern France.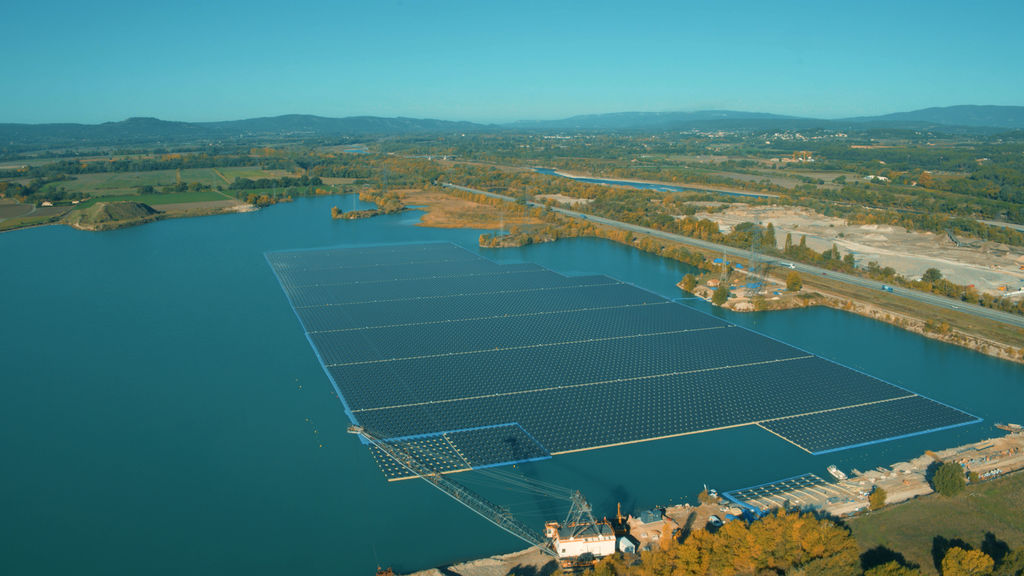 The 14.7MWp floating solar plant has been commissioned in Peyrolles-en-Provence, in the French department of Bouches-du-Rhône.
The facility consists of more than 43,000 photovoltaic panels assembled into a 12-hectare island in the 'Chapeliers' basin, a former gravel pit undergoing a global redevelopment operation.
The site will produce more than 22GWh per year, enough to meet the energy needs of some 6,400 households, according to Boralex.
Innosea, a marine renewables engineering, R&D and advisory expert, completed independent engineering work to support the design phase of the floating solar plant. The company carried out aerodynamic and environmental loading calculation management, detailed mooring and anchoring design, mooring installation operation follow-up and validation.
Omexom, an energy services company for the production, transformation and transportation of electricity, built the floating solar farm for its client Boralex.
The project was selected under the French Energy Regulatory Commission (CRE 4) call for tenders and thus benefits from a feed-in premium contract for 20 years.
The floating solar project originates from the vision of materials company Durance Granulats and municipality Peyrolles-en-Provence to refurbish a gravel pit on the Chapeliers site, which had reached the end of its operating life.
Nicolas Wolff, vice president and general manager at Boralex Europe, said: "The Peyrolles-en-Provence project is the result of extensive engineering work and consultations with stakeholders. Our teams were able to take advantage of this innovative technology to offer a techno-ecological solution adapted to its natural environment, and thus meet the needs expressed by Durance Granulats and the municipality of Peyrolles-en-Provence. We are proud to see the site now generating its first electrons."
Valentin Arramounet, specialist engineer at Innosea, added: "We were really pleased to bring our expertise and track-record in engineering and consulting at the design stage of floating photovoltaics projects, to the Peyrolles-en-Provence project.
"This is a project executed in complete compliance with the principle of 'avoid-reduce-compensate' – integrating environmental challenges into the project design for optimized results. Not only that, this project repurposes a large, decommissioned space, for the development of beneficial green energy generation."
In addition, through a partnership between Boralex and the Institut National de l'Energie Solaire (INES), the solar facility will be monitored, with a focus on specific measurements for at least the first three years of operation.
This research will therefore contribute to enhancing floating solar technology and allow for the optimization of the overall performance of the site, according to Boralex.
---
Follow Offshore Energy – Marine Energy
---