Santos buying Quadrant Energy for $2.15 billion
Australian energy company Santos is set to buy its compatriot Quadrant Energy for $2.15 billion, plus potential contingent payments related to resources from recently struck Dorado oil find.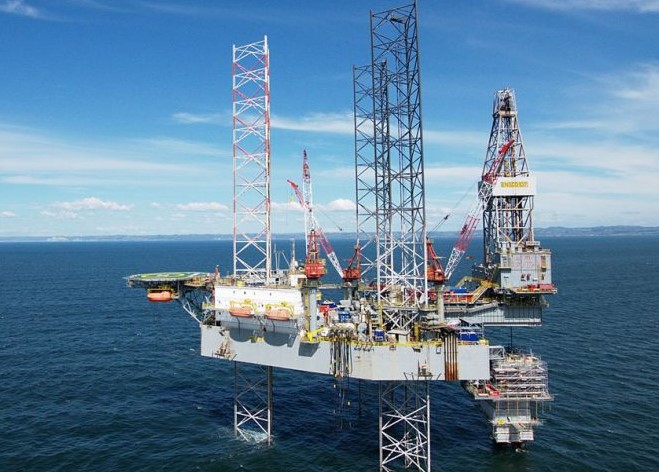 Quadrant Energy holds natural gas and oil production, near and medium-term development, appraisal and exploration assets across more than 52,000 km2 of acreage, mainly in the Carnarvon Basin offshore WA, Australia's largest offshore oil and natural gas province.
The company has recently struck what is believed to be W. Australia's largest oil discovery in years at its Dorado-1 well.
Quadrant's share of production from the assets in 2017 was 19 million barrels of oil equivalent (mmboe).
According to Santos, Quadrant 2P reserves at the end of 2017 were 220 mmboe (~75% developed). Quadrant's conventional natural gas assets include significant portfolio overlap with Santos, providing an opportunity to realize material combination synergies estimated at US$30-50 million per year, Santos said.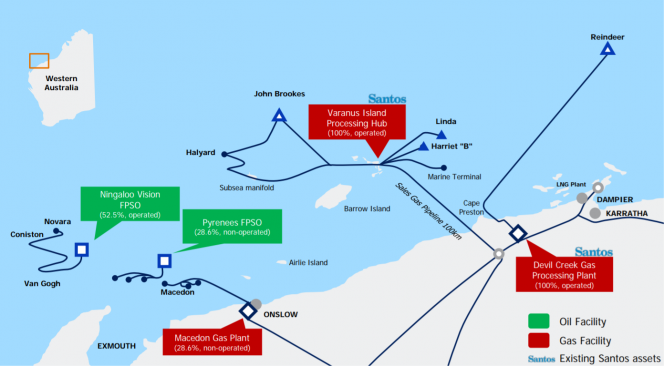 Rationale
Santos said the acquisition of Quadrant was "fully aligned with Santos' growth strategy to build on existing infrastructure positions around the company's core assets."
The company said: "Quadrant delivers operatorship of Santos' existing gas hubs in WA, providing flexibility to optimise operations and position Santos to capture value from backfill and third party gas opportunities. It also strengthens Santos' offshore operating expertise and capabilities to drive future growth opportunities across offshore WA and northern Australia."
"Quadrant's portfolio of high-margin conventional domestic natural gas assets backed by medium to long-term CPI-linked offtake contracts provide strong and stable cash flows, and compliment Santos' predominantly oil-linked revenues."
Santos will pay $2.15 billion upfront in cash, plus contingent payments linked to Dorado oil/liquids 2C resource certification of more than 100 mmbbls and future FID decision; and Royalty over any future Bedout Basin project revenue (excluding production of Dorado oil/liquids).
For a detailed breakdown of contingent Dorado payments see chart below, as shared by Santos: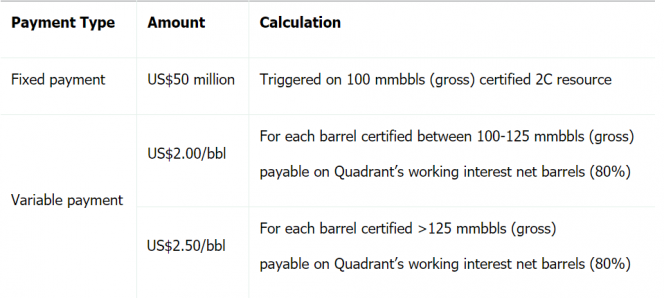 As reported last week, Quadrant's partner in the Dorado Carnarvon Petroleum said the Dorado contained some 171 million barrels of oil (2C), making it one of the largest oil resources ever found on the North West Shelf.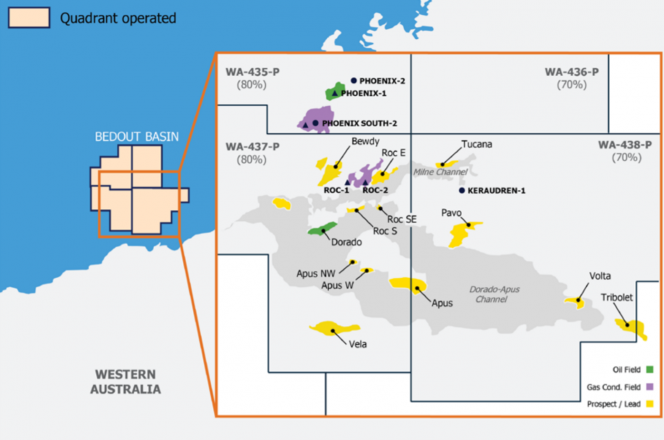 Santos will fund the acquisition from existing cash resources and US$1.2 billion in new committed debt facilities. Santos had US$1.5 billion in cash on hand as at June 30, 2018.
Santos boss: Quadrant to help us become leading gas supplier in Australia
While the Dorado oil discovery is for sure exciting, commenting on the Quadrant acquisition, Santos' managing director focused on Quadrant Energy's gas assets.
Santos Managing Director and Chief Executive Officer Kevin Gallagher said:"This acquisition delivers increased ownership and operatorship of a high quality portfolio of low cost, long-life conventional Western Australian natural gas assets which are well known to Santos, and importantly significantly strengthens Santos' offshore operating capability."
"It is materially value accretive for Santos shareholders and advances Santos' aim to be Australia's leading domestic natural gas supplier."
"The transaction lowers our proforma 2018 forecast free cash flow breakeven oil price by a further $4/bbl and Quadrant's stable cash flows provide increased certainty during the upcoming period of major growth project delivery."
"We look forward to welcoming Quadrant's staff to the Santos family and integrating our Western Australian operations."
Quadrant CEO: Exciting new chapter
Quadrant Energy was established in 2015 following completion of Apache Energy acquisition by Brookfield and Macquarie Capital.
Commenting on the Santos deal news, Quadrant Energy CEO Brett Darley said he was "extremely proud of the whole team at Quadrant Energy who over the past three years, have transformed Quadrant into a highly successful stand-alone business."
"We have delivered operational excellence, outstanding results in our exploration program, and successfully integrated an entire new business model throughout the company.  All of this has been achieved with a strong focus on the environment, and the commitment to the health and safety of our people," Mr Darley said.
"On behalf of Quadrant Energy, I would like to say how pleased I am to be part of this agreement with Santos and our business and people are well placed for this exciting new chapter as part of a national and international oil and gas producer."
Subject to customary consents and regulatory approvals the transaction is expected to complete by the end of 2018.
Offshore Energy Today Staff