Bulkers collide in Turkey's Marmara Sea, both heavily damaged
On 24 October, two bulk carriers collided near the northern entrance to the Dardanelles Strait in the Sea of Marmara, Turkey's General Directorate of Coastal Safety (KEGM) reported.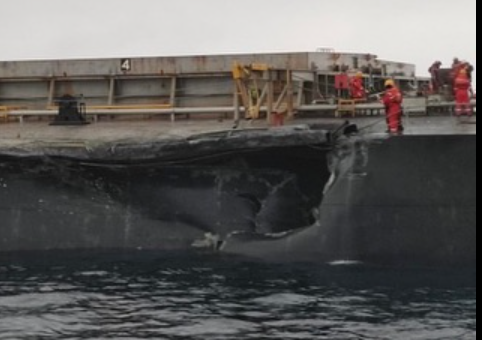 At around 6:00 a.m. (local time), the 30,000 dwt bulk carrier BC Vanessa struck the 200,000 dwt bulker Benitamou in midship section area, causing severe damages to both ships.
The ships, which were traveling to an anchorage area off Gallipoli, collided due to the heavy fog in the region, according to the officials. Turkey's General Directorate of Coastal Safety sent three tugs and two response boats to the scene. There was no loss of life in the incident and no environmental pollution was found on site.
The 299-meter long Capesize bulker Benitamou was underway to China, loaded with cast iron. The ship, built by Japanese company Imabari and operated by Doun Kisen Co., suffered damage to its bow and forecastle, according to the VesselsValue data. It is currently sailing under the Panama flag.
Meanwhile, 172-meter long Barbados-flagged bulker BC Vanessa, which was carrying wheat from Bulgaria to Egypt, sustained a breach and water ingress. The vessel was built by Japanese shipbuilder Saiki Heavy Industries in 2010 and is currently managed by Greek company FGM Chartering.
Turkish authorities told local media that both vessels will undergo a thorough dive inspection and temporary repairs before receiving permission to continue their journey. Both ships are currently anchored in safe areas.