Byron Energy closes acquisition of Gulf of Mexico block
Oil and gas company Byron Energy has closed the acquisition of South Marsh Island Block 58, SM 58 E1 producing wellbore, and the associated SM69 E platform and flowlines in the U.S. Gulf of Mexico, for $4.25 million.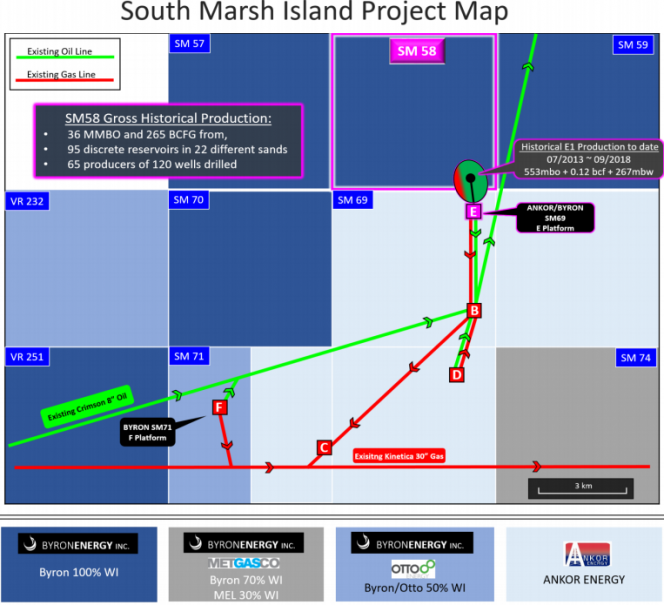 ---
Byron executed an agreement to acquire a 100% working interest (WI) in the SM58 Lease Block to a depth of 13,639' TVD and 50% WI below 13,639' TVD, as well as a non-operated 53% WI in the SM58 #E1 producing wellbore and the SM69 E platform on February 14, 2019.
Byron announced the completion of the agreement on Thursday, March 7. The effective date of the transaction is January 1, 2019.
The company now holds all of the rights, title, and interest in and to the SM58 Lease Block with 100% WI and 83.33% net revenue interest (NRI) to a depth of 13,639 ft. subsea, 50% WI and 41.67% NRI below 13,639'TVD, and 53% WI (44.165% NRI) in the associated non-operated producing assets being the SM69 E platform, the E1 wellbore, and the E platform to B platform pipelines located within SM69; all part of the greater SM73 field.
SM58 is within Byron's 2018 Reverse Time Migration (RTM) and Vector Imaging Partition (VIP) seismic reprocessing project and is located immediately between Byron's South Marsh Island Block 57 and 59 leases which when combined provide Byron with contiguous exploration acreage across the northern half of the SM71 Area Salt Dome and SM73 field.
Maynard Smith, Byron CEO, said: "This is a milestone event in the history of our company and we very much look forward to exploring this lease."
Production from the SM58 E1 wellbore flows from the SM69 E Platform to the Ankor Energy-operated SM69 B platform where separation and processing occurs. The SM69 E platform is a recently constructed (2013) two slot structure with one well slot utilized and offers expansion potential of an additional slot.
Related news
List of related news articles