Canopée gets its Oceanwings
The open ro-ro vessel Canopée, built by Dutch shipbuilding firm Neptune Marine, has been fitted with its four wing sails provided by French company AYRO.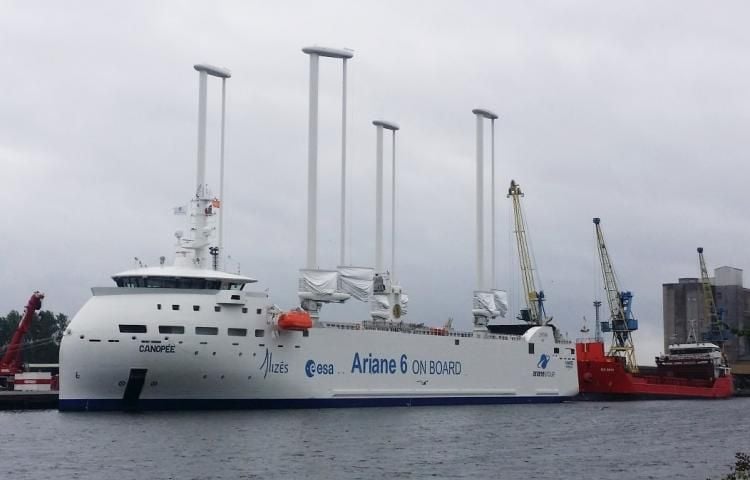 The ship is owned by the shipping company Alizés, a joint venture firm set up between Zéphyr & Borée and JIFMAR Offshore Services.
The company won a tender in 2019 launched by ArianeGroup to ensure the maritime transport service of Ariane 6 space launcher.
For this purpose, Alizés decided to construct a new generation vessel specially designed for the transport requirements of Ariane 6.
The 121-metre long hybrid ship Canopée was developed in partnership with naval design office VPLP Design. The ship features an expansive deck area and agile maneuverability as well as a specially design hull shape.
Canopée Ship Details:
Length: 121.00 m; Width: 22.00 m
Design draft: 4.30 m; River draft: 3.80 m
Deadweight (5.00 m): 5,500 t ; Deadweight river: 2,700 t
Design speed: 16.5 kn
Main engines: 2 x 3480 kW
Oceanwings®: 4x 363 m²
Accommodation: 22 people (11 crew members)
The auxiliary propulsion system is aimed at reducing fuel consumption and thus CO2, NOx and SOx emissions. The Oceanwings measure 30 metres in height and cover an area of 363 square meters each and they are expected to reduce the ship's fuel consumption by 30%.
To remind, in 2021 AYRO obtained approval in principle (AiP) for this wind-assisted propulsion system for ships from classification society DNV. The AiP came on the back of 10 years of research, the first prototype in 2017, and the industrial demonstrator Energy Observer in 2019.
Teams from composite materials supplier Gurit European & New Zealand Engineering collaborated with AYRO for the development of the Oceanwings 363.
Gurit provided composite structural engineering support for the main and secondary mast, as well as the boom and the crane.
Neptune Marine delivered the vessel at the end of 2022 without the wings as they were still being assembled. The ship completed its first commercial trip to Guayana on behalf of its charterer at the beginning of 2023.
"The transport operation and the call at Kourou were successful and were able to confirm the full potential of this pioneering vessel," Alizés said.
The RoRo proceeded to the installation of the wings at the end of July at the Port of Caen, France.
With the installation now completed, the ship is set to undergo sea trials scheduled to last until the end of August.