CCS presents new LNG-powered Chuanjiang standard bulk carrier
As per the China Classification Society (CCS), a new generation of 130m Chuanjiang standard bulk carrier, Chang Hang Huo Yun 002, which is a green and intelligent ship solely fueled with LNG, has been launched.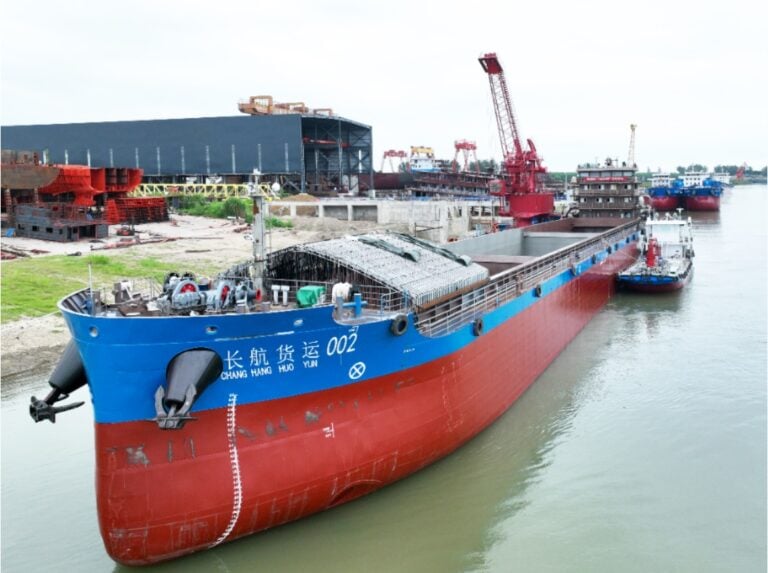 The ship, with a deadweight of 9800 tons, is under construction by Zhijiang Shengmao Shipyard for China Yangtze Shipping Group.
CCS, which conducted the plan approval and new building survey, stated the ship complies with the Green Ship-2 standard as specified by its Rules for Green Ships on Inland Rivers.
In terms of power, CCS said the vessel engines are solely fueled with LNG, and compared with diesel fueling, it can reduce emissions of carbon dioxide by 20% and sulfur oxides and nitrogen oxides emissions by 100%, and it can also reduce 60t of carbon emissions annually.
Additionally, it is integrated with the latest scientific research achievements in terms of optimization, structural light-weighting and efficient propulsion in design, CCS noted, adding that compared with similar ships, its energy consumption can be reduced by more than 10%.
Furthermore, CCS said that intelligent technologies, which are expected to significantly improve the navigation safety and the precision of ship-shore management, have been applied in navigation assistance, energy consumption, ship-shore integration etc.
To note, according to CCS, this ship is the first 130m green intelligent Chuanjiang standard ship that adopts micro LNG ignition technology and is also a key technology verification ship for the 2030 Type green intelligent ships in the Hubei region.
CCS remarked: "The successful launch of the ship marks the breakthrough in key technologies such as low-carbon emission and green and intelligent application, and demonstrates a solution for integrated application of the technology on inland ships."
Click here to read more about LNG in China.
Follow Offshore Energy's Clean Fuel: