Chevron starts up Gorgon carbon dioxide injection system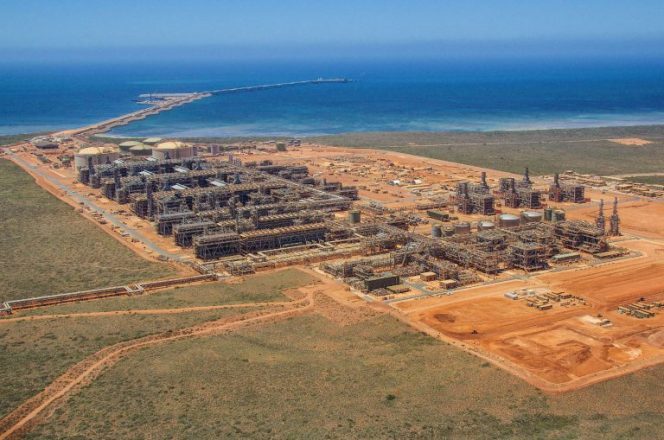 ---
U.S. energy giant Chevron and the Gorgon Joint Venture partners have started operation of the carbon dioxide injection system at the Gorgon natural gas facility on Barrow Island, offshore Western Australia.
Chevron said on Thursday that, once fully operational, the carbon dioxide injection facility would reduce Gorgon's greenhouse gas emissions by about 40 percent, or more than 100 million tonnes over the life of the injection project.
Gorgon facility incorporates many features aimed at maximizing energy efficiency and minimizing greenhouse gas emissions. In steady-state operations, Gorgon is anticipated to have the lowest greenhouse gas emissions intensity of any LNG project in Australia, the company said.
Australia managing director Al Williams said: "We are pleased to reach the first milestone of safely starting the operation of the Gorgon carbon dioxide injection system, one of the world's largest greenhouse gas mitigation projects ever undertaken by industry.
"We are monitoring system performance and plan to safely ramp up injection volumes over the coming months as we bring online processing facilities."
Gorgon comprises a three-train, 15.6 million tonnes per annum LNG facility and a domestic gas plant with the capacity to supply 300 terajoules of gas per day to Western Australia.
The first LNG cargo departed Barrow Island in March 2016, and domestic gas supply to the Western Australian market started in December 2016.
Chevron also started drilling for Gorgon Stage 2 which will consist of 11 additional wells in the Gorgon and Jansz-Io gas fields to maintain long-term natural gas supply to gas plants on Barrow Island.
The project is operated by Chevron's Australian unit that has a 47.3 percent share in the giant LNG project.
ExxonMobil and Shell hold 25 percent each, in the project, while Osaka Gas has 1.25 percent, Tokyo Gas 1 percent and JERA owns a 0.417 percent share in the joint venture.