Christophe de Margerie completes late eastbound NSR passage
Russia's largest shipping company, Sovcomflot, informed its Arctic LNG carrier, Christophe de Margerie has completed its eastbound passage of the Northern Sea Route.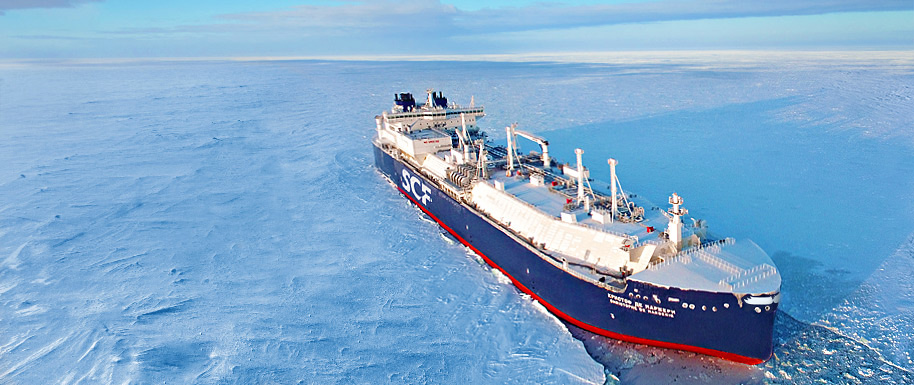 The vessel chartered to the Yamal LNG project reached Cape Dezhnev in Russia's Far East, completing a late seasonal eastbound voyage. It was the first time ever Russian LNG has been transported across this route in January, Sovcomflot said.
The successful NSR passage proves that during the autumn-winter navigation season, commercial cargo shipping across the Eastern part of the Russian Arctic becomes possible for an additional 1-2 months.
This voyage is yet another step towards the year-round, safe navigation along the full length of the NSR. This will also help realize Russia's plans to grow NSR cargo traffic and further unlock the route's transit potential, said Sovcomflot.
The LNG carrier's voyage, from exiting the Gulf of Ob's seaway channel to Cape Dezhnev, lasted 10 days 21 hours, during which time the vessel covered 2,474 nautical miles.
Christophe de Margerie navigated the entire length of the NSR independently without icebreaker assistance. The vessel sailed stern-first for about 66 per cent of the steaming time, to overcome the ice hummocks. The average voyage speed was 9.5 knots.
The passage has provided detailed information about the icebreaking capability and maneuverability of the Arc7 ice class LNG carriers, while navigating under conditions typical for the Eastern part of the NSR in January, in a range of modes.
A day later, another Arc7 ice class LNG carrier followed the same route.
Yamal LNG operator Novatek informed that Nikolay Yevgenov is currently completing its independent passage along the NSR.
It used the data collected by Christophe de Margerie and the channel made by her in the ice fields.
Novatek added that both vessels will deliver approximately 140,000 tons of LNG produced at Yamal LNG to destinations in the Asia-Pacific Region.
The total time of cargo delivery by this route is 40 per cent shorter than the traditional route through the Suez Canal.