Clarksons: 44 pct of ships ordered in H1 are alternatively fueled
Green transition remains a central underlying driver for shipping markets, according to the latest review from Clarksons Research, which estimates that 44% of newbuild tonnage ordered in the first half of this year was alternative fueled.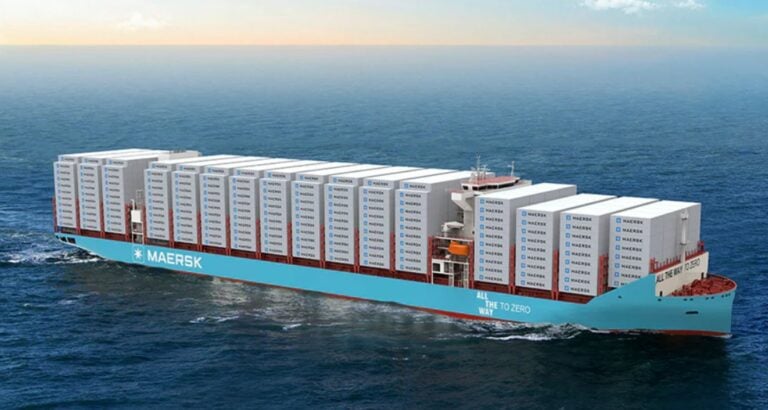 With 62 orders secured in the first six months of 2023, methanol continues to close in on LNG as a mainstream fuel, with the latter locking in the fuel choice in 86 orders.
The containership sector continues to lead the way with over 100 vessels on order, as confirmed by DNV's data. This compares to 251 LNG-fueled containerships in operation and on order.
Some of the most recent orders from the sector backing methanol include Evergreen Marine's latest contract for 24 methanol dual-fuel ships.
Maersk has also bolstered its fleet with a recent order for six 9,000 TEU vessels that will all have dual-fuel engines able to operate on green methanol and fuel oil. The ships are slated for delivery in 2026 and 2027.
The decarbonization drive is expected to have continued impacts on the speed of ships, fitting of Energy Saving Technologies (ESTs), and fleet renewal requirements.
"The world fleet grew by 39m dwt / 1.7% in the first half to reach 2.3bn dwt / 1.54bn GT, slightly above trend but still continuing a theme of relatively restrained fleet supply growth," Steve Gordon, Managing Director of Clarksons Research, said.
"The value of the world fleet is approaching $1.4 trillion: the orderbook has a contract value of ~$350bn."
Shipbuilding deliveries totalled 44 million dwt in the first half of 2023, which is relatively steady y-o-y. Deliveries are increasingly focused on containerships and gas carriers, with containership deliveries reaching new records in both June 2023 (0.30m TEU) and 1H overall (1.0m TEU).
As explained by Gordon, newbuild ordering has had a relatively more moderate start to the year, with 44 million dwt contracted, down 18% y-o-y, though with tanker ordering notably stronger.
Activity in LNG and container fell y-o-y but remained above the ten-year trend. In dwt terms, Chinese yards delivered 52% of tonnage in the first half of 2023, Clarksons said, adding that the overall newbuild pricing edged up 6% across the first half.
"The global orderbook remains moderate overall, standing equivalent to 10% of the fleet, though varies significantly by sector with tankers accounting for 5% which is a 30-year low, followed by bulkers at 7% (a 20-year low), containers at 28%, LNG at 51%, and car carrier with 26%," Gordon added.
"Recycling levels have not increased as expected for the moment. Demolition sales totaled a limited 5m dwt in 1H, a similarly slow pace to the 15-year low seen in 2022."
Finally, sale and purchase (S&P) activity remains well above trend, with 63 million dwt sold in the first six months of the year, in line with the elevated pace of activity seen since the second half of 2020, with continued strong activity in the tanker sector in particular.