CMA CGM Christens New Ship for French West Indies
French container shipping company CMA CGM has christened CMA CGM Fort De France, the company's 1st vessel dedicated to the French West Indies.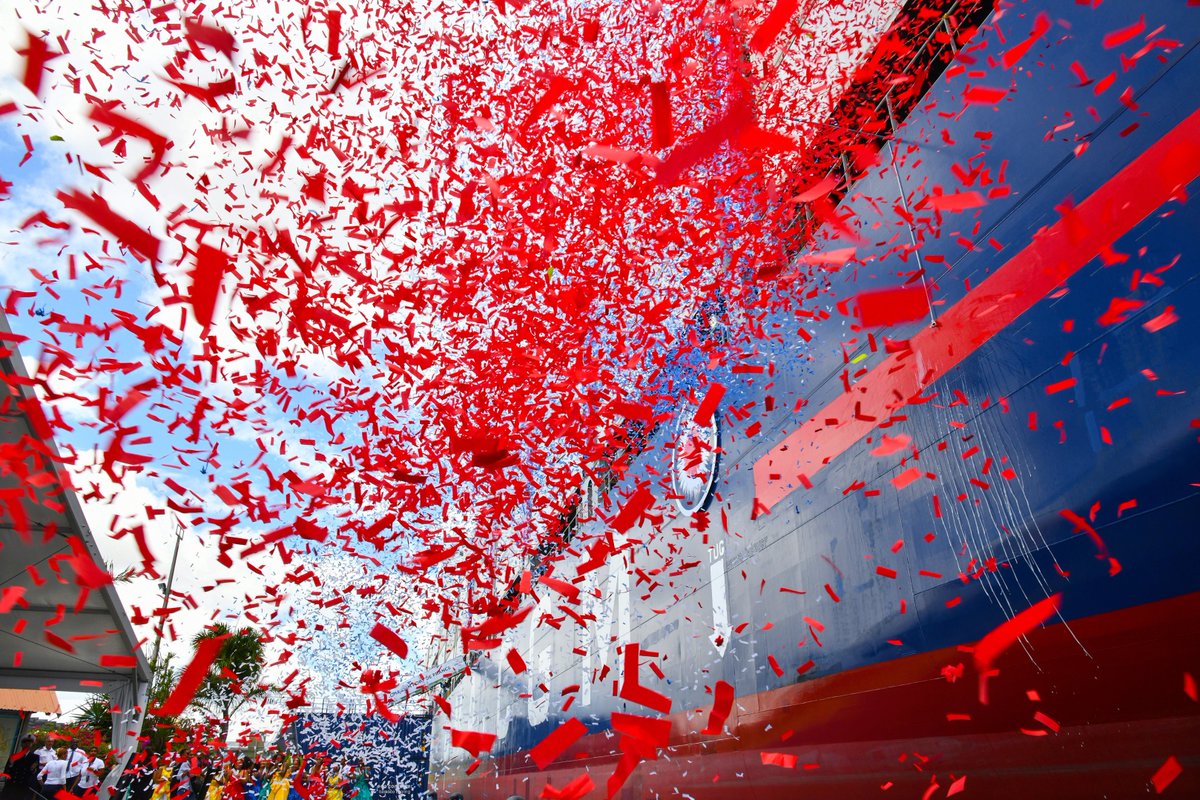 The Post-Panamax containership was christened by Annick Girardin, French Minister for Overseas Territories, in Martinique on April 4, 2019.
CMA CGM Fort De France is a 3,504-TEU vessel that was delivered to the company by China's shipbuilder COSCO Zhoushan in January 2019.
Featuring a length of 219 meters and a width of 35.6 meters, the newbuild is the first of a series of four containerships named after French West Indian forts and flying the French flag. With the ship quartet, CMA CGM intends to modernize its fleet dedicated to this region.
The newbuild will be followed in the coming months by CMA CGM Fort Royal, CMA CGM Fort Saint Charles and CMA CGM Fort Fleur D'epee.
??Proud to see our #CMACGM FORT DE FRANCE, first #vessel of a renewed #fleet dedicated to the French #WestIndies christened in #Martinique in the presence of @RodolpheSaade and the French Minister for Overseas Territories > https://t.co/0O3yeobbAb
Fair winds and following seas! pic.twitter.com/wV3Xgeq4yJ

— CMA CGM Group (@cmacgm) April 5, 2019
In the French West Indies, the group operates 7 maritime services connecting these islands to Northern Europe, the Mediterranean, the Caribbean, and Central and South America.
In order to support the acceleration of Martinique's economic and maritime development, the CMA CGM Group has invested more than EUR 12 million there over the past ten years.
Over the past several years, the Port of Martinique has been carrying out works aimed at increasing its capacity. Following the delivery in June 2017 of 2.5 hectares of reclaimed land on the Pointe des Grives terminal, additional operations will begin over the first half of 2019 to lengthen the terminal quay and to develop 2.5 further hectares of reclaimed land. The port has also decided to order a fourth gantry crane.
According to the company, these works will ultimately allow the port to accommodate larger vessels and to handle more containerships simultaneously, thereby reducing turnaround times and improving rotations.
The CMA CGM Group will thus offer new services to the Mediterranean, South America and the Gulf of Mexico, with vessels of up to 6,900 TEUs.
What is more, CMA CGM wants to build on the strengths of Guadeloupe and Martinique to create a hub in the Lesser Antilles. The group has recently concluded with the Port of Guadeloupe and Martinique new temporary occupation licenses for a period of 15 years.
By reinforcing the complementarity between the two islands, CMA CGM plans to develop transshipment traffic, in order to better integrate these territories into their regional environment. It will thereby provide local businesses with new opportunities and new supply sources.
Video Courtesy: CMA CGM