Consortium backs Phase 2 of Greensand CCS project
Consortium members have agreed to back Phase 2 of the Greensand carbon capture and storage (CCS) pilot project, in support of Denmark's ambitious 70 per cent CO2 reduction targets by 2030.
The consortium comprises major Danish companies, international companies with expertise in carbon capture, international research institutes and universities, as well as small Danish start-ups with ground-breaking ideas on monitoring technologies.
The 29 consortium members are Aalborg Portland, Aker Carbon Capture, Blue Water Shipping, DanUnity, DFM, DHI, DTU, Energy Cluster Denmark, Esvagt, Geelmuyden Kiese, GEUS, Ineos Energy, Ineos Oxide, Maersk Drilling, Magseis Fairfield, Makeen Energy, NLIR, NOC, Rambøll, Resen Waves, SAExploration, Schlumberger, Semco Maritime, Southampton University, SpotLight, Teknologisk Institut, Welltec, WindPowerLab, and Wintershall Dea.
The primary objective of the Greensand project is to store up to 8 million tonnes of CO2 per annum in the Ineos-operated Siri area. The project has three phases – appraisal, pilot, and full project execution.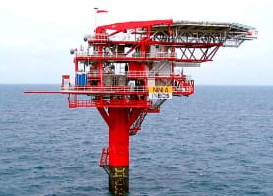 The project recently cleared a major hurdle as DNV GL independently certified that the Nini West field is conceptually suitable for injecting 0.45 million tons CO2 per year per well for 10 years and that the subsea reservoir can safely contain the CO2.
Pilot phase planning is now getting underway with potentially start around the fourth quarter of 2021 subject to the implementation of the agreements outlined in the Danish North Sea Agreement of December 2020.
The FID for the full-scale project will commence after proof of concept, planned FID in the second half of 2023, and will have an estimated delivery duration of around 24 months after which carbon storage could be operational from around 2025.
The Paleocene sandstone fields of the Siri Area in the Danish North Sea are located at an optimal depth of 1.5-2.2 kilometres and are encased in one of the most competent cap rocks in the North Sea. The area is geologically extremely stable and has retained gas and oil for 10-20 million years, the area constitutes a very safe permanent storage site for CO2.
In Phase 1, the Greensand consortium demonstrated the viability of the development of a CO2 storage site. The assessment was certified by DNV. The storage potential is 0,5 – 1 million tons of CO2 per year from 2025, increasing to 4 – 8 million tons of CO2 per year by 2030.
Director of Magseis Renewables, a wholly-owned subsidiary of Magseis Fairfield, Tone Trudeng said: "We are pleased to become a partner in this important CCS project and look forward to using our industry-leading OBN technology and imaging solutions to contribute to the development of CCS monitoring technologies".
Mads Weng Gade, head of Denmark and commercial director of Ineos Energy, stated in a separate statement: "Greensand has brought together a strong consortium of 29 companies, with strong competencies across key players from Denmark and around the world.
"We are taking this step by step. Today we have the consortium in place, and if we are successful in receiving ongoing support from the Danish Government and advisory board, Greensand will be able to take another important step forward in supporting the Danish Climate Strategy".
It is worth noting that the Greensand consortium will now file a grant application with the Energy Technology Development and Demonstration Program in Denmark.
Henrik Madsen, chairman of Aker Carbon Capture, added: "Open access infrastructure for transport and storage of CO2 is key to deliver on the Paris agreement, and Aker Carbon Capture is proud to support national infrastructure projects with key capabilities and experience.
"Greensand can be an enabler for a sustainable Danish industry by offering permanent CO2 storage to a variety of greenhouse gas emitters, and thus supporting a strong common European drive towards net-zero".
"New cost-effective CO2 storage capacity is an important enabler of decarbonization for our customers.  Through our Danish entity, Aker Carbon Capture Denmark, we are well-positioned to serve not only the growing CCS market in Denmark but also accelerate other markets in Europe", Jon Christopher Knudsen, CCO of Aker Carbon Capture, said.
As for another partner in the consortium, Semco Maritime, the company said on Tuesday that it was tasked with designing, procuring, fabricating and installing the unit which will transfer the captured CO2 from a transport vessel to the inactive platforms and further into the depleted oil wells.
Based on Semco's experience in oil and gas, it prepared the concept which will be developed and installed in the next phase of the pilot project.