CorPower Ocean resumes C4 wave energy device deployment program
Swedish company CorPower Ocean has resumed its deployment program for its first commercial-scale C4 wave energy converter, following a period when the Aguçadoura wave energy site in northern Portugal has been out of operation.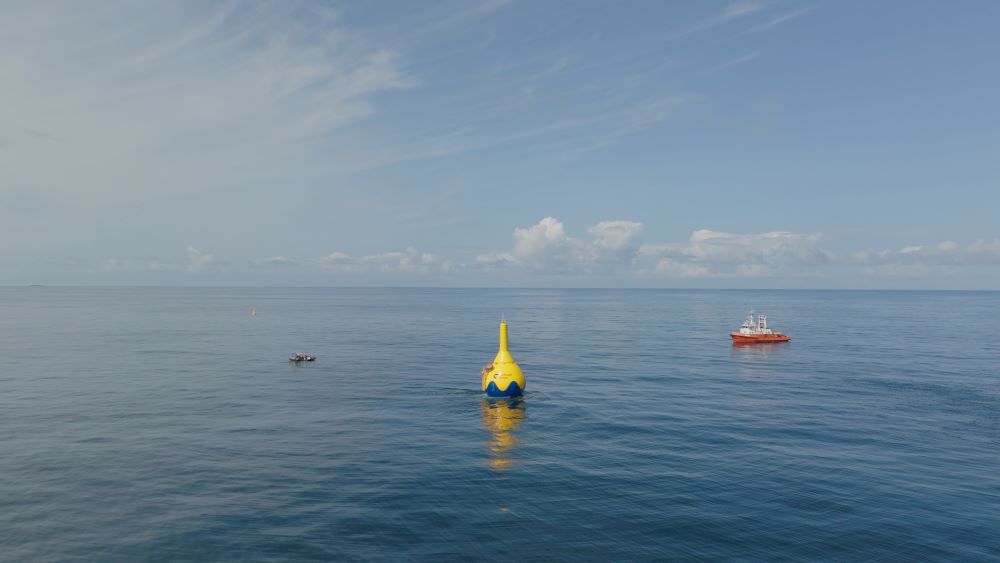 Earlier this year, the company identified cable damage at the offshore site which initiated a series of recovering and refurbishing operations for the electrical cable involving remotely operated vehicles (ROVs) and offshore construction vessels, which was concluded in June.
After restoring the site infrastructure, CorPower Ocean resumed the deployment program by testing operational methods for connecting and disconnecting its C4 device. This follows the successful site installation of the UMACK anchor and subsea electrical export cables in mid-2022 and the completion of C4 assembly and successful Pre-Deployment Check (PDC) program at the quay-side launch pad in Viana do Castelo in December 2022.
During recent weeks, methods for pulling down and mating the C4 device to the UMACK anchor using a fully surface-operated installation sequence have been verified. In the next phase of the program, the C4 device will be taken through cycles of testing safety, control and grid functions, followed by the first power export to the Portuguese grid, the company explained.
CorPower further said it is currently undergoing certification of the C4 technology with DNV to ensure the reliability of components and systems in the marine environment. For marine operation methods, Global Maritime acts as Marine Warranty Surveyor on behalf of underwriters to ensure compliance with offshore standards.
CorPower Ocean CEO Patrik Möller said: "We are pleased to progress the C4 deployment program, after having the Agucadoura site back in operation. Developing new and disruptive technology is an endurance sport and a discipline we have been honing through a carefully structured verification program for more than a decade.
"As we work to introduce a new power source to the world our everyday life consists of problem-solving and removing various obstacles, both big and small. Often this involves auxiliary functions not directly related to the core technology, with the export cable being a recent example. We always try to plan for the unplannable and to be prepared to address new challenges along the way in a methodical manner."
Subscribe and follow
Offshore Energy – Marine Energy LinkedIn