Damen Modifies REM Saltire
Damen Shiprepair Vlissingen has recently completed a reconfiguration programme on a 111-metre subsea construction vessel REM Saltire.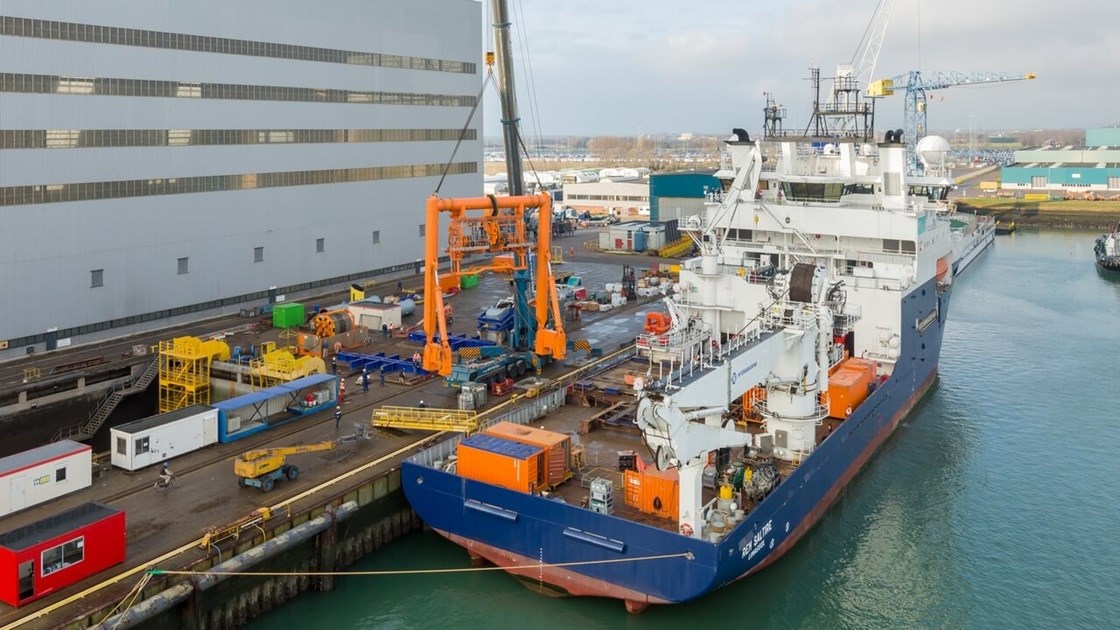 The vessel first underwent the demobilisation of a Q1600 Trenchertrenching system under the supervision of marine contractor Van Oord, before being mobilised for its next contract by Oceaneering.
An initial short period was spent alongside to remove Van Oord's new Dig-It (Q-trencher 1600), which the group had deployed on board the REM Saltire under the contract with Ørsted to transport, install and bury infield cables for the Borkum Riffgrund 2 offshore wind farm.
The vessel then spent three days in the yard's open-air dry dock to have the seals on its thrusters serviced as ordered by REM Offshore.
While this was going on the preparations for removing the remaining deck structure, so that when the vessel was afloat once again a crane could lift the Dig-It up and onto the quayside and works start immediately on returning the deck to its standard format and condition. Meanwhile, more work was taking place ashore, preparing the components that Oceaneering would require to ready the ship for its next contract.
The mobilisation works required for the REM Saltire's upcoming, two-year contract on the other side of the Atlantic involved the fabrication and installation of a sub frame as well as the fitting of a winch and an A-frame. This is to prepare her for the receipt of ROVs and other deck equipment that will be fitted for the project when she arrives in the USA. A 60-tonne subsea crane was also positioned on the aft deck and secured with sea fastenings.
This was the first visit by REM Saltire to Damen, which was selected both for its proximity to the vessel's previous assignment and for its long-standing relationship with Van Oord. REM Mermaid, another REM OSV, visited Damen Shiprepair Oranjewerf at the end of 2016 for some works.
The REM Saltire was built in 2008 by Gr. BMV yards in Norway and features a 1,000 square metre deck and a 150-tonne crane.