Deals signed for E. Guinea 'Gas Mega Hub'
Noble Energy, as operator of Alen gas project offshore Equatorial Guinea, has signed definitive agreements with Marathon Oil and Equatorial Guinea government to develop the field's gas resources via Alba Plant LLC's LPG processing plant and EG LNG's LNG production facility, both located in Punta Europa island.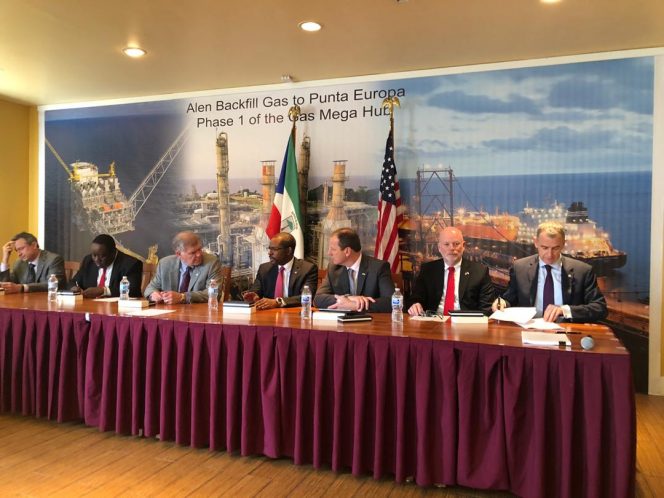 Marathon Oil is the majority shareholder in both Alba Plant LLC and EG LNG. This agreement will see Sonagas GE, the National Gas Company of Equatorial Guinea stake increased from 25% to 30%.
The Alen field initially started operation in 2013 as a condensate production and natural gas recycling project. Natural gas from the field has been produced and reinjected into the reservoir to support the enhanced recovery of liquids since startup.
Primary condensate will continue to be produced and transported to the Aseng field production, storage and offloading vessel for sales.
The Alen gas monetization project will utilize the existing three high-capacity production wells on the platform, with minor modifications necessary to deliver sales gas from the platform to the Alba Plant and EG LNG facilities.
A 24-inch pipeline capable of handling 950 million cubic feet of natural gas equivalent per day (MMcfe/d) will be constructed to transport all natural gas processed through the Alen platform approximately 70 kilometers to the onshore facilities at Punta Europa, where it will be processed and transported for sales on the global market. irst gas is expected in 1Q 2021.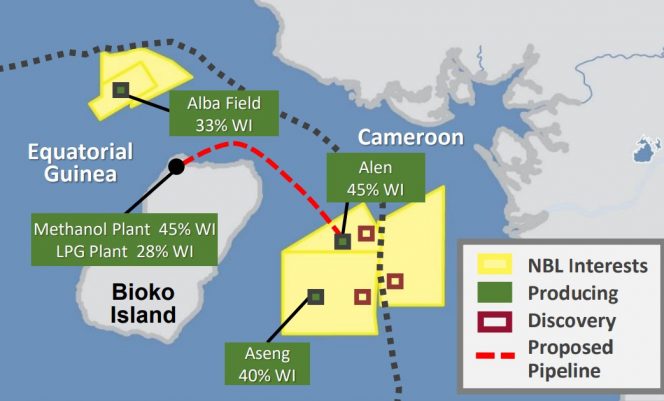 "The Alen Unit gas monetization project will leverage the capacity of the world-class Punta Europa facilities. Modifications are already underway at Alba Plant in order to receive Alen Unit gas. No process modifications are expected at EG LNG in order to process Alen Unit gas," the government said.
"This agreement is a significant step toward solidifying Punta Europa as a cornerstone component of the EG Gas Mega Hub for the potential development of local and regional natural gas," said Mitch Little, Marathon Oil executive vice president, Operations.
"With tie-ins available and minor modifications under way at the Alba Plant, capital requirements are minimal. Importantly, the project leverages existing capacity of the world-class Alba Gas Plant and EG LNG facilities, and all parties benefit from exposure to global LNG prices."
J. Keith Elliott, Noble Energy's Senior Vice President, Offshore, stated, "We are excited to announce this high-return, capital-efficient development as our next offshore major project…The Alen development is the first step towards creating an offshore natural gas hub in E.G., which will open the potential for future monetization of additional discovered resources through existing infrastructure.
"Noble Energy has discovered three trillion cubic feet of gross natural gas resources in the Douala Basin, which positions us well for LNG sales exposure over the coming decade. These offshore major projects continue to differentially position Noble Energy to deliver substantial free cash flow and value to our shareholders," he said.
At start-up, natural gas sales from the Alen field are anticipated to be between 200 and 300 MMcfe/d, gross (~75 to 115 MMcfe/d net to Noble Energy). The wet gas stream will be tolled through the Alba Plant for additional liquids recovery before converting dry gas into LNG via the EG LNG facility. Noble Energy anticipates that Alen natural gas sales will grow modestly as open capacity in the EG LNG plant increases due to declining Alba field production.
"Noble Energy and partners will maintain ownership of the hydrocarbons through the processing facilities, and the Company will be progressing negotiations for offtake agreements to sell the LNG in global markets. Total estimated gross recoverable resources from the Alen field are approximately 600 billion cubic feet of natural gas equivalent," Noble Energy said.
Gross capital expenditures for the development are estimated to be $330 million (~$165 million net to Noble Energy).
Gas Mega Hub
The project will provide an additional source of gas for the Punta Europa facilities and will transform the Alen platform into an Offshore Gas Hub for development of both Alen Unit gas, other Block O and I discoveries and potentially additional Gulf of Guinea gas fields, the government said.
The government said that the Alen Gas Offshore Hub will be the first hub in the Government's vision of developing Equatorial Guinea as a Gas Mega Hub, comprising of additional offshore gas hubs, all feeding gas into the Punta Europa facilities.
"This is the kick off of our Gas Mega Hub and we will do more deals on other gas assets in the country that must be developed. Development of the Gas Mega Hub will ensure a thriving Equatorial Guinea gas industry into the future. It is my firm belief that it will create opportunities for development of our citizens in the Upstream and Downstream segments of the country's oil and natural gas industry" said the Minister of Mines and Hydrocarbons,  Gabriel Mbaga Obiang Lima.
"Monetization of Alen Unit gas could deliver around $1.5-2 billion dollars in additional State revenues over the life of the project, including revenues from Alen Unit and respective Punta Europa plants. Local content is going to play an integral part in the implementation of the project when it comes to contracting and jobs for our citizens. I am happy this project will support the employment of Equatoguineans employed by the Punta Europa plants and Alen platform, which currently stands at approximately 1,400 employees in total," the minister said.
---
Spotted a typo? Have something more to add to the story? Maybe a nice photo? Contact our editorial team via email.
Offshore Energy Today, established in 2010, is read by over 10,000 industry professionals daily. We had nearly 9 million page views in 2018, with 2.4 million new users. This makes us one of the world's most attractive online platforms in the space of offshore oil and gas and allows our partners to get maximum exposure for their online campaigns. 
If you're interested in showcasing your company, product or technology on Offshore Energy Today contact our marketing manager Mirza Duran for advertising options.
Related news
List of related news articles