Deutsche Bucht OWF Foundations Installation Begins
The start of construction of the 269 MW Deutsche Bucht offshore wind farm has been marked with the installation of the first out of 31 steel foundations in the German Exclusive Economic Zone, more than 100 kilometers from the German mainland.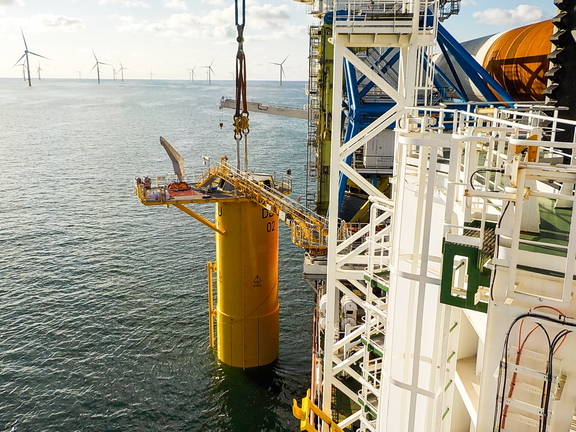 With an investment budget of approximately EUR 1.4 billion, Deutsche Bucht is Northland Power's third North Sea offshore wind farm.
"We are very pleased to have achieved this important milestone," said Jens Poulsen, project director of Northland Deutsche Bucht GmbH. "Thanks to the committed Deutsche Bucht project team and our experienced general contractor, Van Oord, the offshore building phase of the wind farm started on schedule."
Northland Deutsche Bucht has contracted manufacturing and installation of the monopiles and transition pieces from Van Oord.
In Cuxhaven, the components are loaded onto the jack-up installation vessel Scylla, supplied by offshore solutions provider Seajacks. The monopiles, measuring an average of 78 meters in length and weighing 1,100 tons each, are delivered from Rostock by transport barge and loaded directly onto the installation vessel.
The transition pieces are 26 meters high and weigh more than 300 tons; they were transported from the production site in Spain and offloaded to interim storage in Cuxhaven until installation.
Installation of the steel foundations is scheduled to be completed by the end of 2018, the company noted.
In addition to the 31 turbines installed on monopiles, two of the project's 33 wind turbines will be mounted on innovative mono bucket foundations. Mono buckets comprise a single steel cylinder topped by a shaft and are installed using suction – this enables an installation process with low noise and minimal environmental impact.
Once completed, the 269 MW Deutsche Bucht wind farm is projected to produce 1.1 billion kilowatt hours annually, with the capacity to meet the needs of approximately 328,000 households.