Directors recommend Bergen Group, Endúr Fabricom merger
The previously proposed merger between Norway's Bergen Group and its compatriot oil service company Endúr Fabricom has now received unanimous approval from the respective board of directors of the two firms.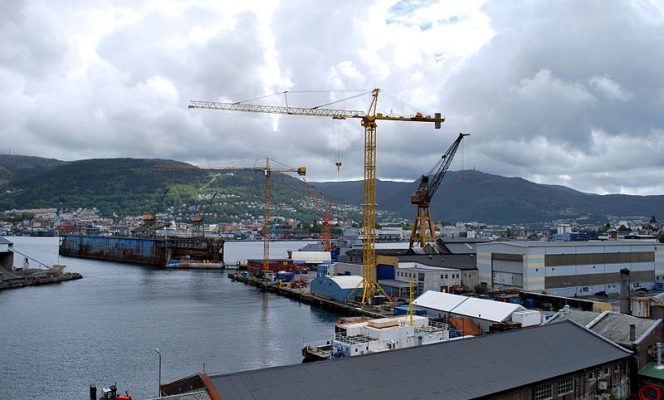 The respective boards of the companies involved in the merger have now unanimously approved and decided upon a final merging plan in line with the premises previously announced to the market.
The proposed merger plan, announced in August 2018, is set to be resolved upon at extraordinary general meetings (EGM) of the respective companies.
"Bergen Group ASA expect it's EGM to be held in week 51 of this year. The proposed merger has support from the main shareholders in Bergen Group ASA, representing more than 62% of the shares in the company, as well as 100 % of the owners of Endúr Fabricom AS," Bergen Group, a supplier of products and services to the areas of energy & industry, maritime, defense, access technology & services and aquaculture, said on Thursday.
Endur Fabricom is a company specializing as a supplier of maintenance, modification, installation, fabrication and rebuilding of complex oil and gas installations both onshore and offshore.
The merger is expected completed mid-Q1 2019. The merged company will constitute an industrial group based in western Norway, with close to 400 employees and an order book exceeding NOK 1 billion.
The combined company will have a presence in both the oil and gas markets, in maritime service and towards the aquaculture industry.
"The board resolutions accomplished today represents an important formal step going forward in the process of establishing a strong industrial group with a solid presence in the oil and gas market, maritime service and aquaculture industry," said the two companies' chairmen Hans Petter Eikeland of Bergen Group ASA and Ove Røssland of Endùr Fabricom AS.
Bergen Group top management changes
In a separate statement on Thursday, Bergen Group said it had appointed Nils Hoff as new CEO, succeeding Torgeir Nærø.
Hoff has previously served as CFO, and is taking over from Nærø who will take on an advisory position for the Group until the end of the first quarter of 2019.
Bergen Group's Board Chairman Hans Petter Eikeland sees the change as a natural consequence of the upcoming merger with Endùr Holding.
He said: "Through Nils Hoff, we have a group leader with extensive industrial experience from change processes, and with strong focus on ensuring sound operations and financial results. Hoff has also been a key player in the strategy process that the company has implemented, and this ensures important continuity when Torgeir Nærø now resigns."
Hoff was appointed CFO of Bergen Group ASA in June 2015 to assist in the comprehensive restructuring process of the Group.
His CFO position will be taken over by Morten Riiser (34), who has served as VP Finance in Bergen Group since August this year, previously working at manager positions in advisory firm KPMG.
Related news
List of related news articles