Drydocks World and Aker Solutions to revamp FPSO destined for UK's giant oil & gas field
The UAE-headquartered marine and offshore services provider Drydocks World Dubai, a part of DP World, and Norway's offshore engineering contractor Aker Solutions have formed a new joint venture, which will enable them to work together on upgrading a floating production, storage and offloading (FPSO) vessel for one of the largest undeveloped oil fields in the UK.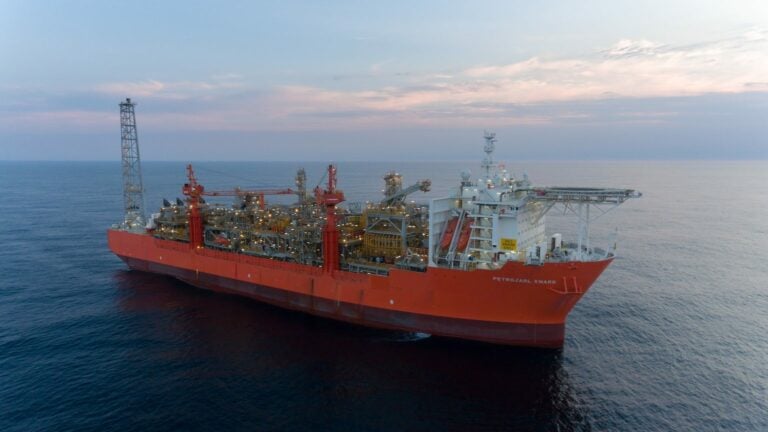 Drydocks World reported on Friday, 3 February 2023, that it had formed a joint venture with Aker Solutions to upgrade the FPSO Petrojarl Knarr for Equinor's Rosebank oil and gas field off the coast of Shetland in Scotland.
According to the UAE's player, the new joint venture combines the complementary strengths, resources, and experience of Drydocks World's marine and offshore services with Aker Solutions' integrated solutions, products and services, to cater for the needs of the global energy industry.
Capt. Rado Antolovic PhD, CEO of Drydocks World-Dubai, commented: "Based on our strong prior working relationship and the aligned cultures of each partner, the new joint venture between Drydocks World and Aker Solutions will bring the shared strengths and values of both companies and provide a range of solutions including engineering, procurement and construction to a global market."
The company explained that the joint venture signed its first contract with Altera Infrastructure to upgrade, refurbish and electrify the FPSO Petrojarl Knarr, which would be redeployed at Rosebank field, with the upgrades allowing it to be kept in the field for 25 years without drydocking.
Arne Hygen Tørnkvist, EVP of Altera Infrastructure, said: "I am very pleased to sign this contract on behalf of Altera – being the owner of the Petrojarl Knarr FPSO. The FPSO will operate for up to 25 years in the most challenging environment on the planet. I see this as a start of a strong and long-term relationship with Drydocks World."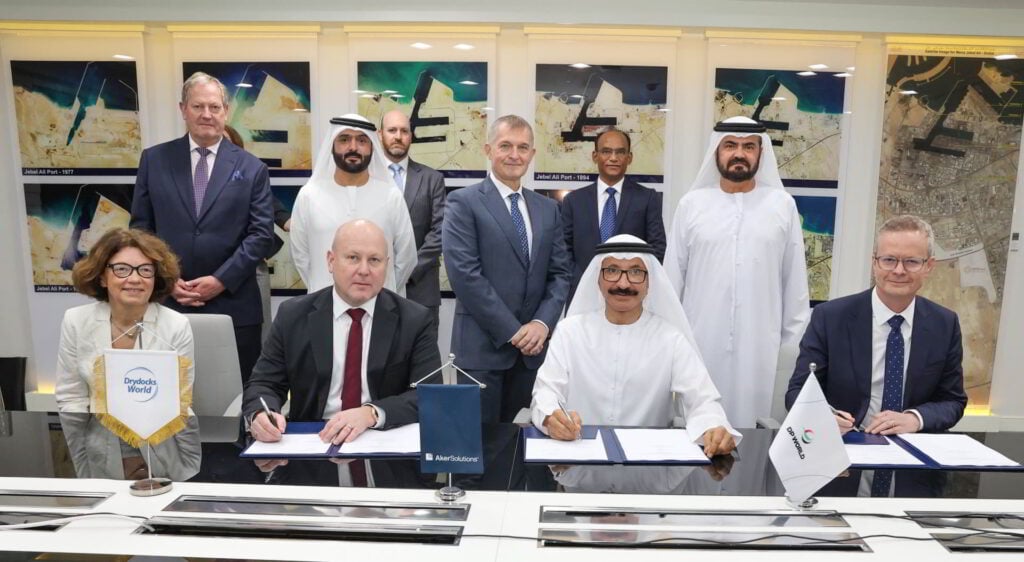 Furthermore, this contract was officially signed in Dubai at DP World's Head Office by Sultan Ahmed Bin Sulayem, Group Chairman and CEO of DP World and Chairman of Drydocks World; Sturla Magnus, Executive Vice President, Topsides and Facilities at Aker Solutions; and Arne Hygen Tørnkvist, EVP of Altera Infrastructure.
Kjetel Digre, CEO of Akers Solutions, stated: "Collaboration and partnerships are at the core of how we work. In Drydocks World-Dubai, we have a world-class partner in developing solutions and we look forward to continuing our long-term relationship by delivering jointly towards the Rosebank oil and gas field development project."
While Aker Solutions will handle the detailed design and procurement of equipment in Norway, Drydocks World will be responsible for the fabrication and construction work at their yard in Dubai. Currently, the FPSO Petrojarl Knarr is at the Aker Solutions yard in Norway and the UAE firm explained that the FPSO would remain there until it is towed to Dubai, later in 2023. The engineering, procurement and construction (EPC) work is planned for completion by the end of 2025.
Sultan Ahmed Bin Sulayem, DP World Group Chairman and CEO, remarked: "This joint venture between Drydocks World and Aker Solutions will deliver world-class maritime engineering and construction solutions to the global energy industry. The sector needs smart, collaborative partnerships like this to ensure sustainable production and to successfully transition equipment and vessels for the future. Today's announcement is an important step forward."
According to Equinor, the reuse of the FPSO Petrojarl Knarr, which previously worked for Shell on the Knarr field in the North Sea off Norway, as opposed to building a new one, will avoid 250,000 tonnes of CO2 emissions. With a production capacity of 63,000 barrels of oil equivalent per day, this FPSO has a storage capacity of 800,000 barrels.
Moreover, the Rosebank oil and gas field is estimated to contain 300 million bbl of potentially recoverable reserves. The development cost for this project is estimated at £4.1 billion, plus a further £3.6 billion in operating expenses.
If sanctioned, the Rosebank project is expected to create £8.1 billion of direct investment – including the development, operation and decommissioning of the field – based on Equinor's projections. This is one of the previously delayed energy projects, which is currently facing additional obstacles that may hinder its progress and delay the sanctioning yet again.
Bearing in mind the current obstacles, Offshore Energy reached out to Equinor in December 2022 to seek more information about the potential impact of this on the firm's plans. In response, a spokesperson for the Norwegian state-owned energy giant confirmed that there was "no change to the Rosebank project," and added that the final investment decision (FID) was still planned for Q3 2023.