Eco to boost its stake in ExxonMobil's block offshore Guyana
Canada-based and AIM-listed oil and gas exploration company Eco (Atlantic) Oil & Gas is one step closer to its ambition of becoming "the go-to small-cap exploration vehicle for investors" with the inking of a new deal, which will enable it to increase its interest in the ExxonMobil-operated Canje block.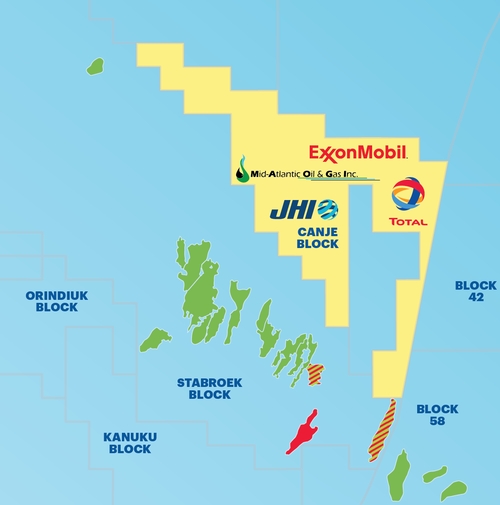 Eco Atlantic informed on Monday that it had signed a commercially binding term sheet to acquire 100 per cent of JHI Associates (JHI) – a private company headquartered in Canada – including its 17.5 per cent working interest in the Canje Block, directly adjacent to the prolific Stabroek Block, where ExxonMobil has discovered in excess of 10 billion barrels of oil.
Located approximately 180 to 300 kilometres offshore Guyana in water depths ranging between 1700 and 3000 meters, the Canje Block covers approximately 4,800 km2.
Gil Holzman, Co-Founder and CEO of Eco Atlantic, commented: "Being a shareholder of JHI since last year has given us a deep understanding of the Canje Block and its prospectivity. This transaction adds to Eco's strategic acreage position in Guyana and ensures that there will be a number of drilling catalysts over the next couple of years on Eco's eight offshore blocks."
The Canje Block is operated by Esso Exploration & Production Guyana – a subsidiary of ExxonMobil – which holds a 35 per cent interest. The remaining partners are TotalEnergies E&P Guyana with a 35 per cent stake, JHI Associates with 17.5 per cent, and Mid-Atlantic Oil & Gas with 12.5 per cent.
Founded in 2011 as a Guyana pure-play deepwater exploration company, JHI teamed up in 2014 with Guyana-based Mid-Atlantic Oil & Gas, which was awarded the Canje Block in 2015. A year later, ExxonMobil joined the Canje Block as the operator, and in 2018, TotalEnergies farmed into the block.
Back in June 2021, Eco Atlantic entered the Canje block, when it acquired a 6.4 per cent interest in JHI. The company further increased its stake in this offshore block to 7. 35 per cent in January 2022.
Regarding the latest deal, the company explains in its statement that JHI is to have a minimum cash balance of $15 million, acquired as part of the transaction with Eco, on the closing of the transaction.
John Cullen, Founder and CEO of JHI, commented: "This transaction provides JHI's shareholders access to Eco's exciting portfolio of exploration opportunities in the emerging oil basins of Namibia and South Africa, and in Guyana with their Orinduik block, while maintaining their exposure to the Canje Block, where we have been working steadily with our partners to identify the next prospect to drill."
Furthermore, Eco Atlantic will provide JHI's shareholders – along with the holders of any JHI options and warrants – with 34.1 per cent of Eco's issued share capital, or approximately 127 million new common shares of Eco, providing for a cashless acquisition, with a value of approximately $52 million at the company's current share price.
Moreover, Eco explains that the completion of this acquisition is subject to, among others, the signing of an arrangement agreement and satisfactory completion of due diligence by Eco and any requisite approvals from the government of Guyana, the Canje Block partners, and the TSX Venture and AIM exchanges. Certain shareholders of JHI will also enter into lock-up agreements to restrict the sale of the consideration shares.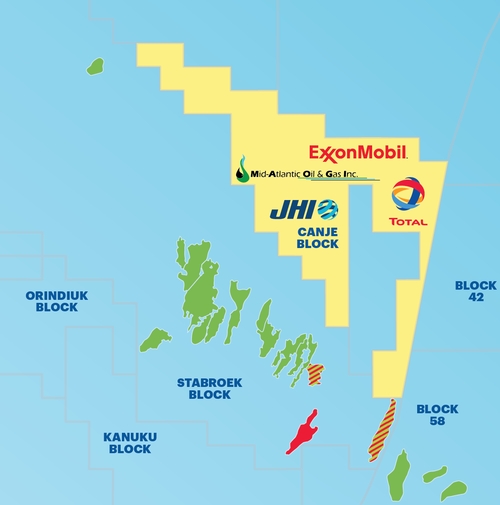 JHI's audited financial statements – as of 31 December 2021 – show that it had total gross assets of approximately $30.7 million with roughly $19.7 million being cash and cash equivalents and $3.5 million being the book value of its interest in the Canje Block. In addition, the financial statements also outline that JHI had total liabilities to third parties of approximately $500,000.
Eco claims that the JHI acquisition will add to its strategic acreage position in Guyana and pave the way for further drilling activity on the company's blocks over the coming years.
Therefore, Holzman explains that this acquisition "will further augment the enlarged group cash position for its share of all near term exploration programs on its current blocks including 2B in South Africa where drilling preparations for a late Q3 spud are underway and the Eco Orinduik Block offshore Guyana to follow, Block 3B/4B in Orange basin South Africa and elsewhere in the current and future portfolio of the enlarged entity."
The company confirms that the JHI acquisition is currently expected to close in the second quarter of 2022 after obtaining the required approvals. Upon the closing of this transaction, JHI has the right to appoint two non-executive directors to Eco's eight-member board of the enlarged group, bringing further exploration expertise to the company.
"Eco's ambition is to become the "go-to" small-cap exploration vehicle for investors seeking exposure to high-impact drilling programs in three of the world's most exciting hydrocarbon provinces in Guyana, Namibia and South Africa. This acquisition gets us another step closer to that goal and builds on the Azinam acquisition we announced earlier this year," concluded Holzman.
As reported last week, Eco completed all the steps required to close the acquisition of the Azinam Group and its asset portfolio, aside from one, which also needs to be checked off the list to effectively expand its footprint offshore South Africa and Namibia.