EMEC Hires Leask Marine for Tidal Foundation Tripod Removal
The European Marine Energy Centre (EMEC) has contracted Orkney-based Leask Marine to remove a tripod foundation from EMEC's Fall of Warness tidal energy test site.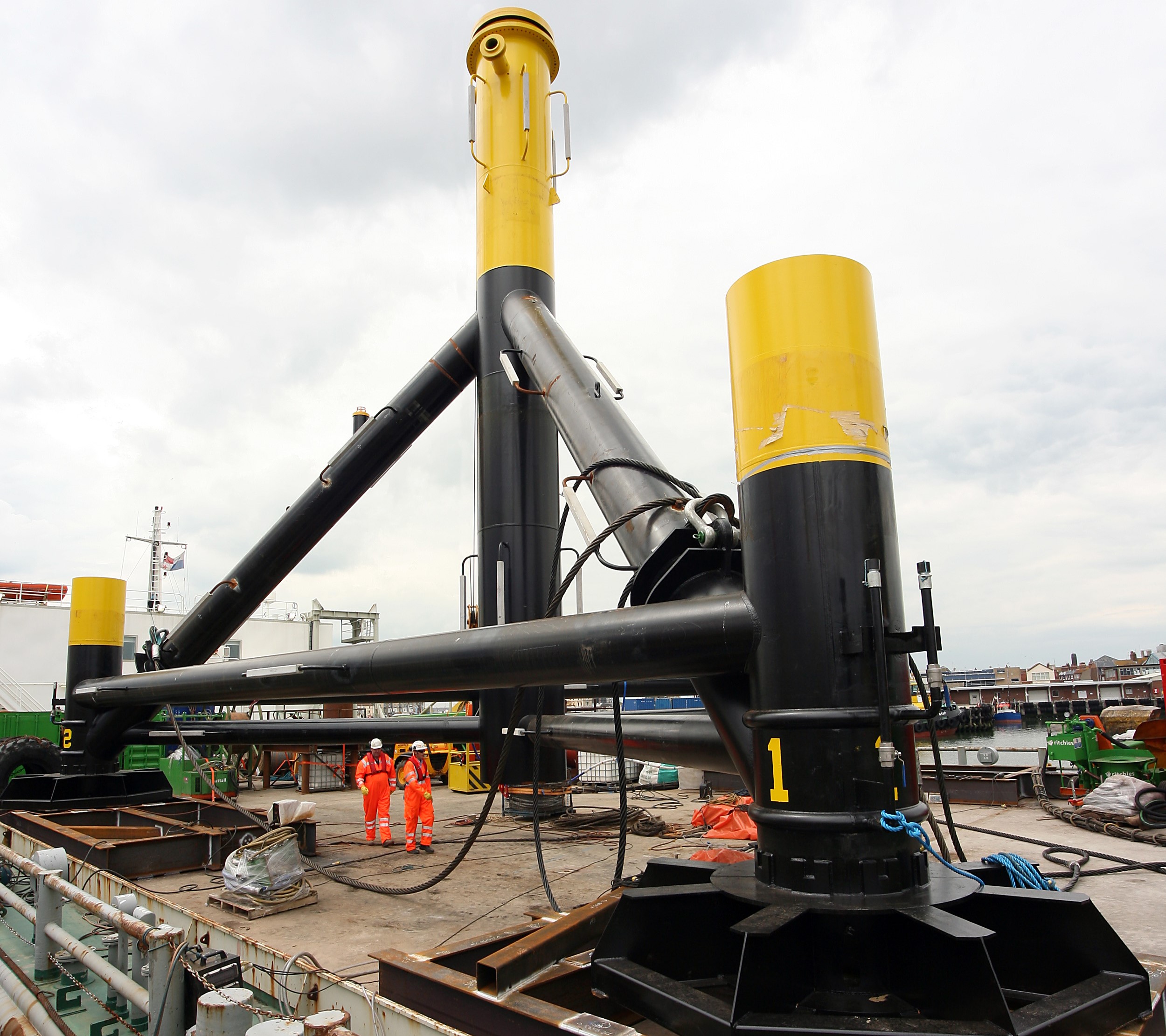 The operation will feed into a collaborative FORESEA-funded project called Forensic Decommissioning for Tidal Energy Converters (FoDTEC), involving Blackfish Engineering Design, the International Centre for Island Technology (ICIT), Rovco, and Brunel Experimental Techniques Centre, Brunel Centre for Advanced Solidification Technology and Brunel Design.
The FORESEA support package will focus on conducting forensic analysis to obtain a comprehensive understanding of the end-of-life condition of the tripod, which was first installed in 2009, and ascertain the long-term effect of deploying components and systems in the sea.
Forensic examination techniques will focus on biofouling and metallurgic analysis as well as collation of a detailed photographic record of the decommissioning activity for future reference.
A lessons-learned report offering best-practices for device and infrastructure design, deployment, operation, maintenance, and decommissioning will be published for the benefit of the sector, enabling developers to minimize decommissioning costs and de-risk future projects, EMEC informed.
Decommissioning is a critical part of the lifecycle of any ocean energy project but is not yet well explored as relatively few technologies have progressed to the decommissioning stage following long-term deployment, and limited resources force focus on the development and demonstration phases of prototype projects.
Nic Wallet, FORESEA programme manager, EMEC, said: "The FORESEA programme was developed to bring offshore renewable energy technologies closer to market by providing free access to North-West Europe's world-leading network of test centres. Whilst this has primarily focused on the demonstration of wave and tidal energy converters in real-sea conditions, we're excited to see this extend to include another vital aspect of the ocean energy technology lifecycle: decommissioning. 
"The tripod has remained in situ at the Fall of Warness to give the potential for it to be usefully re-purposed, however so far EMEC's clients have preferred to have clear access to test berths. Therefore we made the decision to remove the tripod, taking the opportunity to address the lack of decommissioning that has taken place in the industry to give clearer insight into the latter stages of a technology's lifecycle. 
"The project was formed to conduct forensic analysis and share the learning with developers and other test centres to ensure that the works are of maximum use to the industry. Through sharing lessons learned and implementing them into future device designs and operations, we expect to positively impact the LCOE for ocean energy."
Douglas Leask, managing director, Leask Marine, said: "We are delighted to have been appointed through tender by EMEC as the marine contractor for this important decommissioning project. This will bring together the experience of the local supply chain to facilitate the removal of the tripod foundation that is currently installed on Berth 2 of EMEC's grid connected tidal test site, while providing a decommissioning case study and recommendations for further cost reductions and de-risking.  
"Providing a low-cost option for decommissioning has come about through using the same methodology as other successful subsea structure decommissioning projects that Leask Marine has performed around the UK for developers."
Leask Marine expects to complete the site removal works during the summer of 2018.