Finland's Inkoo FSRU receives second LNG cargo from Gasum after Balticconnector incident
Following rupture and shutdown of the Balticconnector gas pipeline in early October, Finland's Inkoo FSRU terminal has received second LNG cargo from Gasum.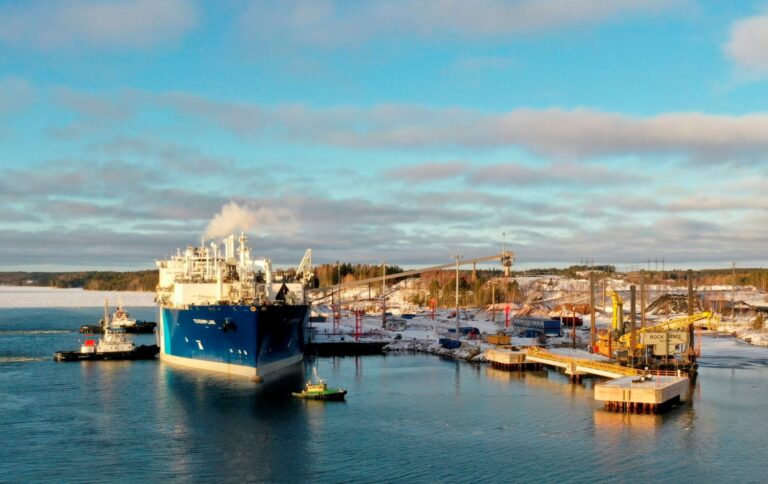 According to Gasum, the cargo arrived on November 5 and unloading to the FSRU has started where the LNG will be regasified and fed into the Finnish gas pipeline grid.
The LNG cargo is approximately 400 GWh in size and it was supplied by Equinor from Norway.
This is the second cargo Gasum has delivered to the Inkoo FSRU since the Balticconnector gas pipeline between Finland and Estonia suffered a rupture and was shut down in early October.
Finland's National Bureau of Investigation (NBI) clarified technically the cause of the damage, stating that the Newnew Polar Bear vessel, flying the flag of Hong Kong, is believed to have caused it.
Repair of the pipeline is expected to take at least five months. In the meantime, all Finnish natural gas demand must be met through imports of LNG.
To this end, Gasum has reserved three more slots at the Inkoo FSRU for the upcoming winter season.
Moreover, energy company Eesti Gaas, also known as Elenger, will bring an additional LNG cargo from the U.S. to the Inkoo terminal in the second half of November 2023 to cover Finland's gas consumption.
In the coming months, the Inkoo FSRU will also be equipped with the technical capability to load LNG from the terminal further into smaller bunkering vessels, improving the flexibility of cargo utilization.
To remind, Finland's first FSRU-based terminal was launched in early 2023. When fully laden, it holds around 68,000 tonnes of LNG, which corresponds to around 1,050 GWh of energy.