FPSO Carioca sets sail for Petrobras' Sépia field. Production start in August
The floating production storage and offloading (FPSO) vessel Carioca MV30 has set sail from the Brasfels shipyard in Angra dos Reis towards Petrobras' Sépia field in the Santos Basin pre-salt.
The vessel will be the largest FPSO-type unit to operate in Brazil, with a daily capacity to process 180,000 barrels of oil (bpd) and 6 million cubic meters of gas.
Modec – the constructor and vessel operator – stated via its social media channels when announcing the departure of the FPSO that the vessel can also store 1.4 million barrels of oil. The FPSO is supposed to be in operation for the next 21 years.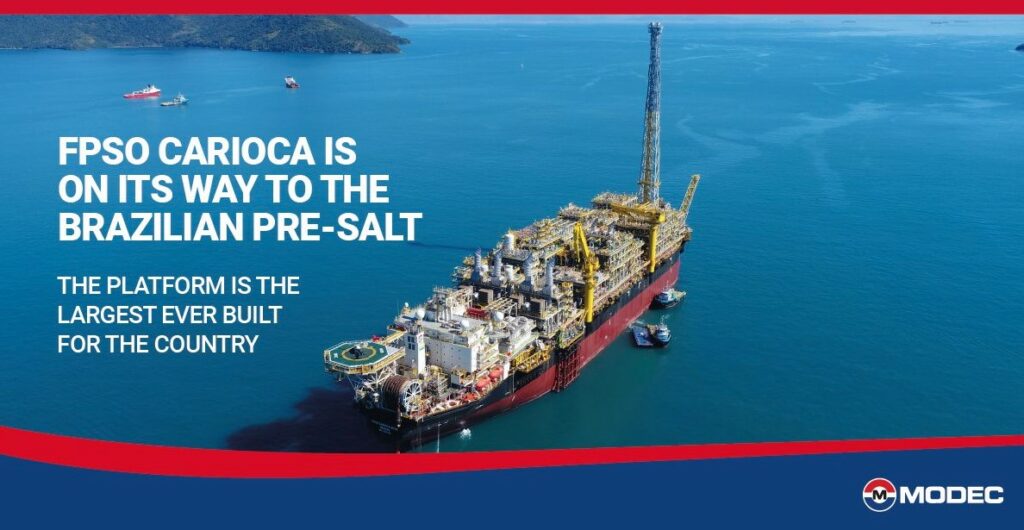 The vessel is scheduled to arrive at the Sépia field sometime on Monday and start production during August. According to AIS data, the Carioca is still moving towards the field.
The FPSO Carioca MV30 will be – according to Petrobras – the only FPSO to come into operation for Petrobras this year. For 2022, the Brazilian oil company has plans for two units two come into operation, one at the Mero and one at the Búzios field – both being constructed by Modec.
The FPSO Carioca is the 13th platform ever developed by Modec for the Brazilian offshore. The first phase of the FPSO conversion was carried out at the Cosco shipyard China. It left for Brazil in November 2020 and arrived at the Brasfels shipyard in February this year.
At the moment, the Japanese company operates ten units in Brazil and has another four units under construction for the country: FPSO Guanabara, FPSO Almirante Barroso and FPSO Anita Garibaldi, for Petrobras, and FPSO destined for the Bacalhau field, for Equinor.
After the Carioca set sail, the commercial and finance manager of Modec in Brazil Felipe Baldissera told Reuters in an interview: "The FPSO market, in particular, remains extremely promising and we could see its strength and resilience in recent years, where even in a market of global retraction and project postponement, Brazil was a country in which companies maintained or increased their prospects for investment and focus.
"In fact, our solid experience in Brazil has helped us to act as a hub to structure our operations in other countries, such as Mexico and Senegal. Today, we can say that we are exporting a lot of what was learned in Brazil to operate in other markets".
Also, the FPSO was recently in local news in Brazil as a TV crew boarded the massive vessel while still in port. You can see what the TV crew filmed in the video below.