GE Grid Solutions kit for Saint-Brieuc offshore substation
Ailes Marines has selected GE Renewable Energy's Grid Solutions to provide the main electrical equipment for the Saint-Brieuc Bay offshore wind farm's substation.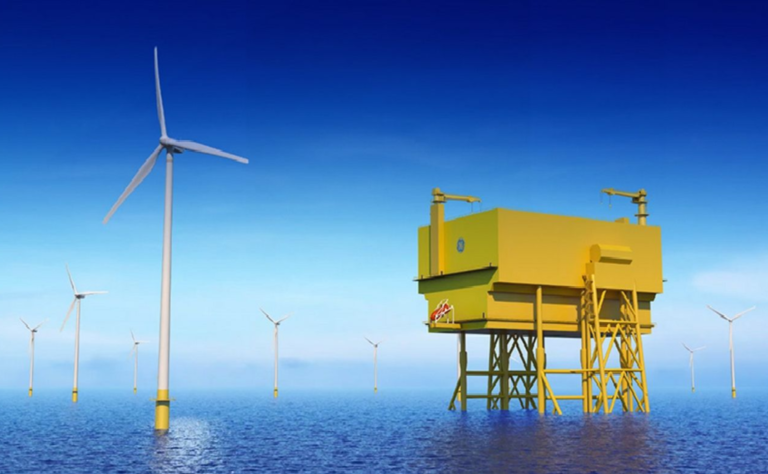 GE's Grid Solutions will be in charge of the design, manufacturing, installation, and commissioning of the high-voltage electrical equipment as well as the substation's control and protection system.
The company will design and manufacture 72.5 kV and 225 kV Gas Insulated Switchgear (GIS) at its French plant in Aix-les-Bains. The substation's control and protection system will be designed at its centre of excellence in Montpellier, France. Power transformers will be manufactured at its Gebze plant in Turkey.
GE's Grid Solutions forecasts that the electrical substation's commissioning tests will take place during 2022.
The offshore substation, to be built by Eiffage Métal and Engie Solutions, will be positioned at the centre of the 496 MW Saint-Brieuc wind farm, on a jacket type foundation.
It will house the wind farm's fully automated control systems, as well as all the equipment to ensure the reliable electrical connection between the wind turbines and the power grid on land.
The substation will collect the electricity produced by the wind farm's 62 Siemens Gamesa 8 MW wind turbines and by increasing voltage, through power transformers, to limit energy losses when the energy gets transferred to the coast. Within the offshore substation, voltage is elevated from 66,000 to 225,000 volts.
"We look forward to working with Ailes Marines to bring clean energy to France with our advanced substation technology, as well as our expertise in integrating renewable energy to the grid," said Heiner Markhoff, vice president and CEO of Grid Solutions at GE Renewable Energy.
Ailes Marines, a company 100 per cent owned by Iberdrola, is in charge of the construction, installation, and operation of the Saint-Brieuc Bay offshore wind farm in the northwest of France.
"This new partnership with GE's Grid Solutions for the electrical fitting of Saint-Brieuc's offshore substation will contribute to maintain skilled jobs in France," Javier Garcia Perez, President of Ailes Marines and Iberdrola's International Offshore Business Director, said.
"The green economy is a major source of industrialization and sustainable, quality jobs which stimulate activity throughout the entire value chain. With the last of the supply contracts coming along, the project is progressing toward its construction phase, thanks to the support of all stakeholders, while helping France to accelerate towards a fully decarbonized economy."