GKinetic secures Canadian patent
Irish hydrokinetic turbine developer GKinetic Energy has been granted patent protection for its technology in Canada.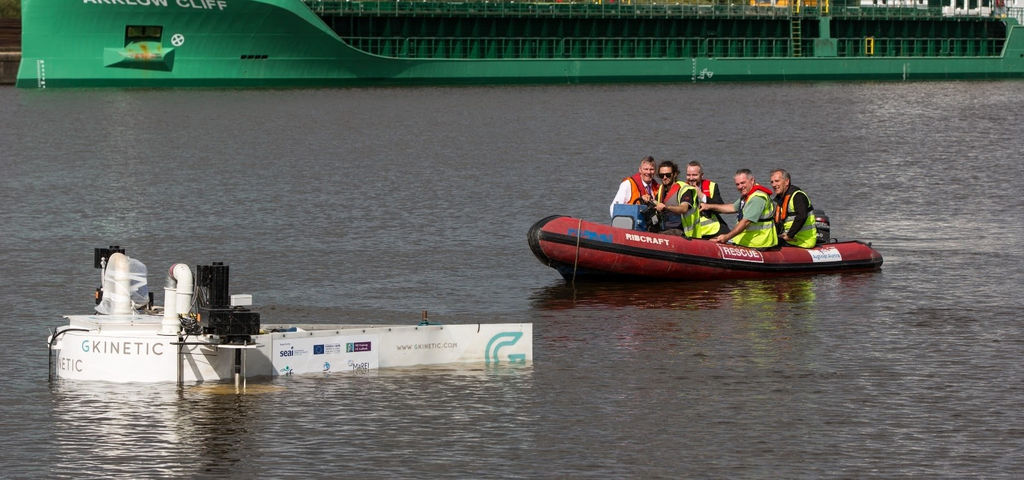 The Canadian Patent no. 2908126 was officially granted at the end of February 2021. Following the company's US patent approval in January earlier this year, GKinetic's 'bluff body' concept is now fully protected in North America.
Canada is a highly attractive market full of untapped hydrokinetic resources and communities searching for reliable clean energy technology, according to GKinetic.
GKinetic said it plans to make landfall in Canada in the near future for possible collaborative research projects to further connect Canada and Ireland, with discussions currently in the pipeline.
Canada boasts world renowned marine renewables test facilities including the Fundy Ocean Research Center for Energy (FORCE), the Canadian Hydrokinetic Turbine Test Center (CHTTC) and SOAR, together with established marine supply chains in place and successful marine energy deployments.
In 2017, Vincent Mc Cormack, CEO of GKinetic, attended the Annual Marine Renewables Canada Conference and while on his visit, encouraged the creation of SOAR to address the need for a community-scale marine energy research and test centre.
SOAR stands for Sustainable Oceans Applied Research and is a not-for-profit organization located in Nova Scotia, Canada adjacent to two world class tidal energy sites.
"The introduction of GKinetic Energy technology in Canada helps move the marine renewable industry one step closer towards providing reliable renewable energy to micro-grids in coastal communities. SOAR looks forward to advancing our relationship with GKinetic.  We offer the ability to test and demonstrate this promising technology in Canadian waters, enabled through working with industry, coastal communities, Indigenous peoples, academics, and stakeholders.
"This collaboration is needed to involve a broad spectrum of abilities, create needs-based solutions, and achieve predictable renewable energy to shore while reducing fossil fuel dependency for many Canadian coastal communities. Micro-grids powered by renewable energy are a critical aspect for energy security and achieving climate change goals", SOAR said in a statement.
GKinetic has a busy year lined up with testing planned for summer 2021 at the IFREMER test facility supported by Marinet2 and the SEAI RD&D fund, the company informed.
Closer to home in Ireland, the +CityxChange project is progressing well with Irish Environmental Consultants, JBA Consulting currently working with GKinetic on a hydrology study and licensing and permitting applications to deploy the GKinetic technology in Limerick.