Global OTEC gets Lloyd's Register's blessing for part of its floating OTEC system
UK-based company Global OTEC has secured an approval in principle from Lloyd's Register for a barge that will support its floating ocean thermal energy conversion (OTEC) system.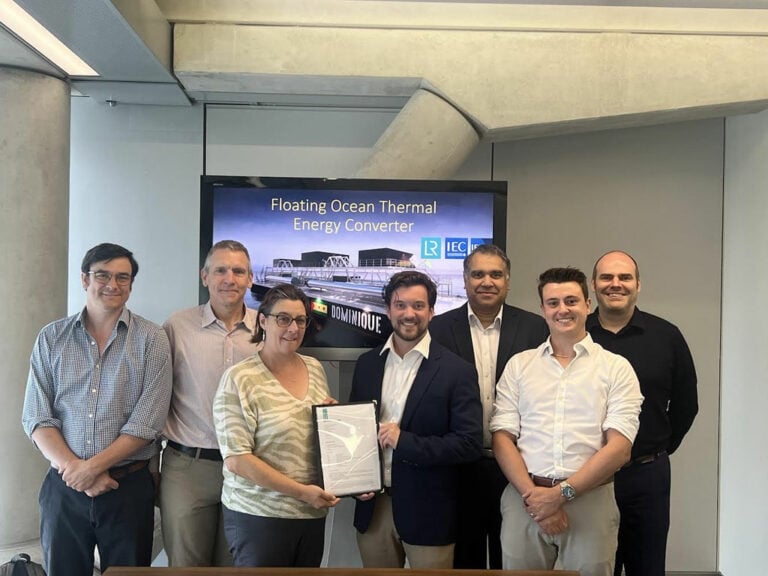 The 1.5MW floating OTEC unit named Dominique, is being designed by Global OTEC and set to be installed in São Tomé and Príncipe in 2025.
The Lloyd's Register's approval in principle (AiP) process provides technology developers with early confidence that their technology is capable of being appraised against existing codes and standards.
The award of the AiP acknowledges that the Global OTEC's barge can meet the necessary requirements for providing a structural basis for its floating OTEC system, according to the company.
The project illustrates a pioneering example where diesel fuel imports can be replaced with clean, baseload energy from the ocean.
The OTEC operating principle involves an offshore system that uses warm surface seawater to evaporate a low boiling point liquid. The hot vapor produced drives a turbine that produces electrical power. Cold water from the deep ocean is then used to cool the vapor and condense it back into a liquid so the cycle can repeat itself all year round to produce electricity with zero CO2 emissions.
Dan Grech, Global OTEC's founder, said: "Building on the certificate of approval issued from marine warranty surveyor, ABL Group, we have further validation of our technically sound and reasonable approach to commercializing OTEC technology.
"The challenges which have stalled OTEC deployments are not insurmountable. Following excellent engineering practices, overseen by regulatory bodies, provides our customers and investors with a great deal of comfort."
Commenting on the award of the AiP to Global OTEC, Jenny Wilson, engineering discipline team manager at Lloyd's Register, said: "Lloyd's Register is pleased to award an AiP e to Global OTEC for a barge to support its OTEC platform Dominique.
"This project fits squarely within the UN sustainable development goals of the IECRE system that Lloyd's Register as a Renewable Energy Certification Body (RECB) for marine energy fully supports. Global OTEC's platform will offer a green alternative to fossil fuel energy with zero carbon emissions and will be a vital source of renewable electricity for developing countries."
Subscribe and follow
Offshore Energy – Marine Energy LinkedIn