Greenpeace persists with BP rig chase in North Sea
Greenpeace says it is like groundhog day for a BP-chartered drilling rig in the North Sea as the rig has made its third U-turn in as many days with activists at its tail the whole time.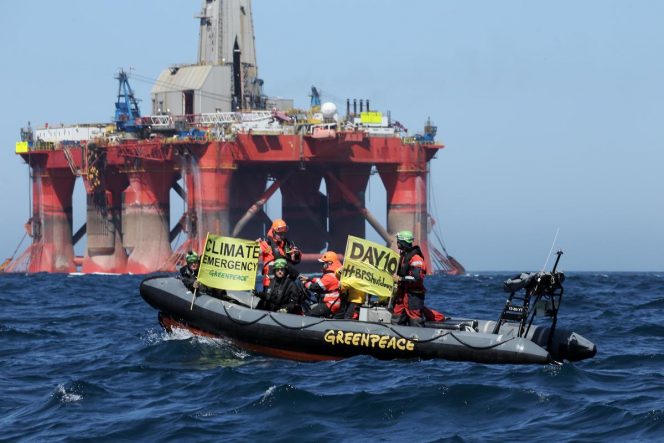 Following two previous U-turns last Sunday and Monday, the Transocean-owned Paul B. Loyd, Jr. drilling rig on Tuesday made another U-turn in the North Sea with Greenpeace activists on its tail.
Ever since the chase between the BP-chartered rig and Greenpeace started, Greenpeace has been claiming that its actions have been forcing the rig to perform these U-turns. However, it is not known why the rig is moving in this manner and what it is trying to achieve, and BP has not responded to Offshore Energy Today's inquiries related to the rig.
One thing is for sure, Greenpeace has managed to obstruct BP's North Sea drilling plans as its protest – which has been going on for eleven days now – has been keeping the rig from reaching the drilling site on the Vorlich field.
In a statement on Tuesday, Greenpeace said that the Arctic Sunrise ship had "forced the rig into third U-turn away from a major North Sea drill site."
The environmental group added: "Just a few miles from the drilling site and having traveled more than 500 nautical miles back and forth since Saturday, the rig performed yet another U-turn and is now heading back towards the shore.
"Two rigid hull inflatable boats have been deployed from Greenpeace ship, the Arctic Sunrise, with activists on board holding banners reading 'Climate Emergency.'"
Eleven Greenpeace activists have been arrested since the protest started in Cromarty Firth on Sunday, June 9 and five appeared at Tain Sheriff Court on Monday charged with breach of the peace and were released on bail.
Sarah North, Greenpeace International climate activist on the Arctic Sunrise, said: "This oil rig is stuck in a loop, much like BP's business model but we're not here to play games. There's only one U-turn BP urgently needs to make, and that's away from climate-wrecking oil and towards renewable energy.
"There is a growing global movement calling for an end to the oil age for the sake of our health, our planet, and our future. We're determined to use every peaceful means available to stop this rig."
It's 10 whole days that our activists have prevented BP's oil rig reaching the drill site in the North Sea. Current status: going round in circles, pursued by a Greenpeace ship. Bit like BP's oil-based business plan… #BPShutdown pic.twitter.com/y65zHAdOg9

— Greenpeace UK (@GreenpeaceUK) June 18, 2019
Related news
List of related news articles