Grimaldi brings its ammonia-ready car carrier tally to 15
Italian shipping major Grimaldi has lifted the option for the construction of an additional five ammonia-ready Pure Car and Truck Carrier (PCTC) vessels at China Merchants Heavy Industries Jiangsu.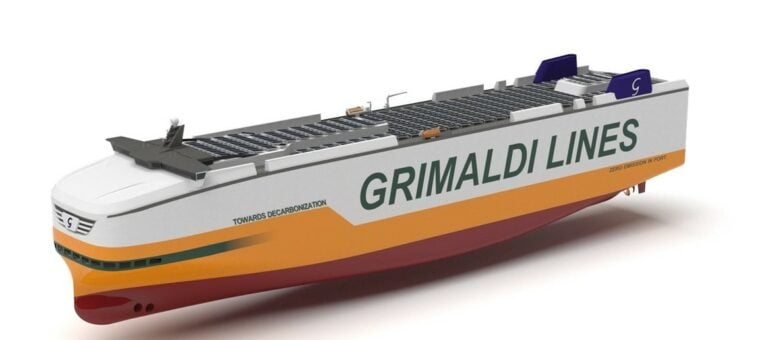 The first five vessels were ordered in October 2022 under a contract with included an option for additional five units, for a total investment of approximately 1 billion euros.
The concept of the new buildings was developed by the Grimaldi Group in collaboration with the Knud E. Hansen naval design. The vessels have received the Ammonia Ready class notation from Italian shipping register RINA, which certifies that the ships are designed for eventual conversion for the use of ammonia as marine fuel.
The ships will have over 9,000 CEU loading capacity and they will be equipped with mega lithium batteries, solar panels and shore connection capability (cold ironing).

"Grimaldi is committed to green shipping and will lead further the car shipping transportation field", stated CMI President Hu Xianpu. "CMI Group will also take the green technology shipbuilding as a new growth point and cooperate with Grimaldi to achieve common long-term development."
"With our recent orders for the construction of new PCTC vessels, we've strengthened our long lasting and fruitful collaboration with China Merchant Industry Holdings," said Grimaldi Group Managing Director Emanuele Grimaldi.
"We've also reaffirmed our commitment to our customers, especially the world's leading car manufacturers who continue to reward us with their trust. In this way, we'll continue to live up to their high expectations and meet their evolving needs, with our offer of increasingly efficient and environmentally sustainable shipping services."
Ten out of fifteen of the newly ordered car carriers will be deployed on the Far East trade and support the increasing development of China's automotive industry.
The ten vessels commissioned from China Merchants Heavy Industries Jiangsu will be delivered between 2025 and 2027.
The latest order is being revealed on the back of another contract Grimaldi signed with Chinese shipbuilders. Namely, last week Grimaldi hired Shanghai Waigaoqiao Shipbuilding Company Limited (SWS) and China Shipbuilding Trading Company Limited (CSTC), two subsidiaries of China State Shipbuilding Corporation Limited (CSSC), to build five more ammonia-ready car carriers.
The contract to build five PCTCs includes the option for another two units, which would bring the total investment to over $630 million.
Overall, the company has recently invested about $2.5 billion in its fleet upgrade and renewal. As a result, the group will take delivery of 25 new vessels over the next five years, including fifteen ammonia-ready PCTCs, six G5-class ro-ro multipurpose vessels, two GG5G-class hybrid ro-ro ships and two Superstar-class ro-pax units.