Grimaldi adds five more ammonia-ready car carriers to orderbook in China
Neapolitan shipping company Grimaldi Lines has ordered five additional ammonia-ready car carriers in China.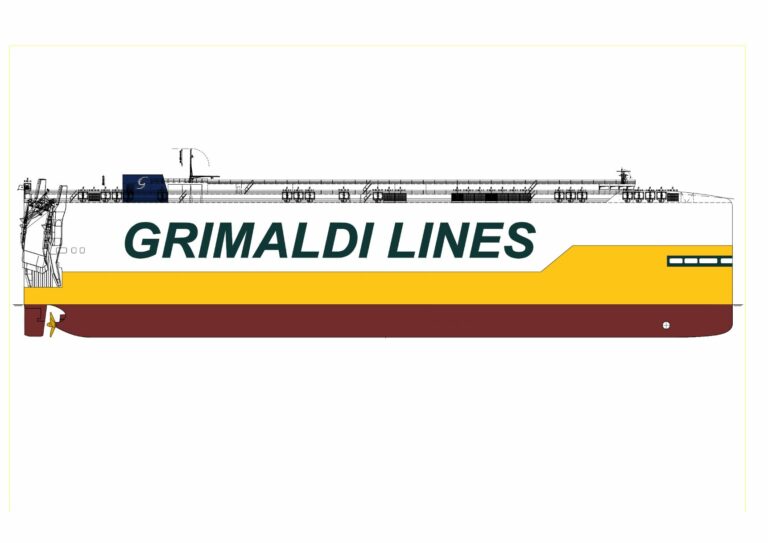 The order went to Shanghai Waigaoqiao Shipbuilding Company Limited (SWS) and China Shipbuilding Trading Company Limited (CSTC), two subsidiaries of China State Shipbuilding Corporation Limited (CSSC).
The contract to build five new Pure Car & Truck Carrier (PCTC) vessels includes the option for another two units, which would bring the total investment to over $630 million.
Grimaldi said that the new PCTCs will be among the first ships equipped with a new type of electronic engine that has much lower power consumption than its predecessors.
In addition, the new ships will have Ammonia Ready class notation provided by the Italian naval society RINA, which certifies that they may be converted for the use of ammonia as an alternative, zero-carbon fuel.
The ships will also be fitted with systems for cold ironing enabling the ship to plug into the shoreside supply of electricity during port stays.
"Thanks to their emission abatement systems, the new units will comply with the most stringent limits established at international level for CO2, NOx and SOx emissions," Grimaldi said.
With a length of 200 meters, a width of 38 meters, and loading capacity of 9,000 CEU, the new buildings have been designed to transport electric and fossil fuel vehicles (cars, SUVs, vans, etc.) as well as other types of heavy rolling freight (up to 250 tons).
The latest generation of vessels represents an evolution of the 6,700-CEU car carriers delivered to the group between 2016 and 2018 (Grande Baltimora, Grande New York and Grande Halifax).
In addition to the significant increase in capacity, due to design enhancements and technological innovations, their CO2 emissions per cargo unit transported index will be 27% lower than that of the previous generation of ships, according to Grimaldi.
Upon their delivery, expected between 2025 and 2026, the new buildings will enhance the Grimaldi Group's services between Europe, North Africa, and the Near and Far East.
The new order was signed just over two months after the group's latest order for the construction of five ammonia-ready PCTC vessels.
Grimaldi said that the latest order testifies to the company's trust in the growth of the global automotive industry, and notably of the electric car segment.
Furthermore, the agreement with the Chinese shipbuilders has been described as very important for the Chinese maritime industry, in light of the recent entry of the China Shipowners' Association in the International Chamber of Shipping.
Grimaldi has 10 future fleet members under construction, which are due for delivery within the next two years. These include six multipurpose ro-ro G5 class ships for intercontinental routes, two Superstar class vessels for the transportation of freight and passengers for the subsidiary Finnlines, and two additional ro-ro ships belonging to the GG5G class.