Gulf of Mexico operations returning to normal following storm Cristobal
Offshore oil and gas operators are resuming operations on platforms and rigs in the U.S. Gulf of Mexico following Tropical Storm Cristobal.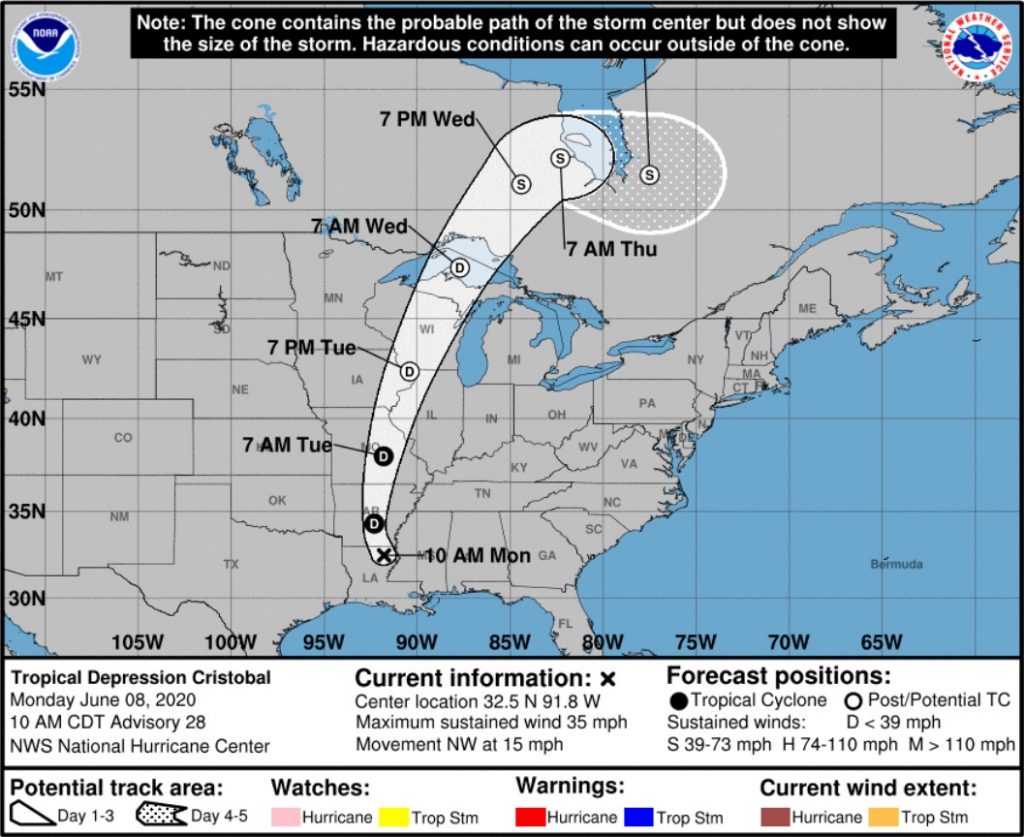 The Bureau of Safety and Environmental Enforcement (BSEE) said on Tuesday that the Hurricane Response Team was still monitoring the Gulf along with other state and federal agencies until operations return to normal and the storm was no longer a threat to oil and gas activities.
Based on data from offshore operator reports, personnel remain evacuated from a total of 123 production platforms which is 19.13 per cent of the 643 manned platforms in the Gulf of Mexico.
Furthermore, personnel remain evacuated from one non-dynamically positioned rig. Currently, eight such rigs are operating in the Gulf. As for dynamically positioned rigs, all have returned to their working locations.
As part of the evacuation process, personnel activated the applicable shut-in procedure, which can frequently be accomplished from a remote location.
This involves closing the sub-surface safety valves located below the surface of the ocean floor to prevent the release of oil or gas, effectively shutting in production from wells and protecting the marine and coastal environments.
From operator reports, BSEE estimates that approximately 31.11 per cent of the current oil production in the Gulf of Mexico remains shut-in.
As for natural gas, the Bureau estimates around 33.15 per cent of production in the Gulf of Mexico to be shut-in.
The BSEE added that, after the storm has passed, facilities will be inspected.
Once all standard checks have been completed, production from undamaged facilities will be brought back online. Facilities sustaining damage may take longer to bring back online.
BP resuming operations
In an update from Monday, BP said that it had started to resume normal operations at its four operated platforms in the deepwater Gulf of Mexico as Tropical Storm Cristobal was making landfall.
To remind, BP last week removed offshore personnel and ramped down production at its Thunder Horse, Atlantis, and Na Kika facilities.
Non-essential personnel were also evacuated from BP's Mad Dog platform but production remained unaffected.
Other companies also moved non-essential personnel from its platforms ahead of the storm's arrival into the Gulf.
Equinor was one of the majors to move its non-essential workers. More precisely, the evacuation was conducted from its Titan platform.
Another company which followed BP and Equinor was Occidental Petroleum. It flew non-essential workers to shore from its central Gulf of Mexico operations but production from its facilities was uninterrupted.
Shell, which at the time stated that there were no impacts to its production and drilling operations, opted to just monitor the situation.
Related news
List of related news articles