Hapag-Lloyd opens new Megamax era with naming of 1st dual-fuel 23,600 TEU giant
Hapag-Lloyd's first dual-fuel liquified natural gas (LNG) ultra large containership Berlin Express has been christened at the Port of Hamburg.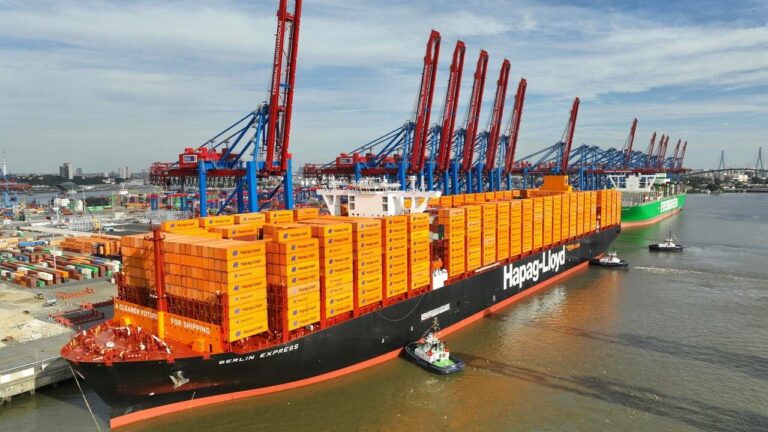 As disclosed, naming patron Elke Büdenbender performed the ceremonial christening of the ship at the Container Terminal Burchardkai (Athabaskakai) in the Port of Hamburg on 2 October.
Berlin Express was built at Hanwha Ocean's shipyard in South Korea. With a length of almost 400 metres and a capacity of 23,600 TEU, it is the largest cargo ship ever to sail under German flag.
The containerships in the Hamburg Express class will operate on the cargo-intensive Far East route between Asia and Europe.
Furthermore, the new Hamburg Express class will mark the beginning of a new era for Hapag-Lloyd and its fleet. In total, a dozen large containerships will be put into service by 2025.
Together, these vessels will make an important contribution to Hapag-Lloyd's efforts to operate its entire fleet in a climate-neutral manner by 2045, according to Hapag-Lloyd. Thanks to their new dual-fuel technology, they will also be able to operate using non-fossil fuels, such as bio-methane and e-methane, and thereby generate hardly any CO2 emissions.

For the time being, liquefied natural gas (LNG) will be used, which should reduce CO2 emissions by up to 25 percent and soot emissions by 95 percent. In addition, advanced components, such as an optimised hull and a highly efficient propeller, will help the vessels to reduce fuel consumption and thereby greenhouse gas emissions.
"With the new Hamburg Express class, Hapag-Lloyd is at a turning point," CEO Rolf Habben Jansen said.
"The highly efficient ships will allow us to reduce our emissions immediately and to a very significant degree. At the same time, they are an important building block in our strategy to gradually push ahead with decarbonisation. All the vessels in this class will sail under German flag and thereby make an important contribution to strengthening Germany as a shipping hub."