Harland & Wolff wins £61 million contract for FPSO mid-life upgrade
Harland & Wolff has secured a £61 million contract with Canadian oil and natural gas company Cenovus Energy for the mid-life upgrade of a floating production storage and offloading (FPSO) vessel.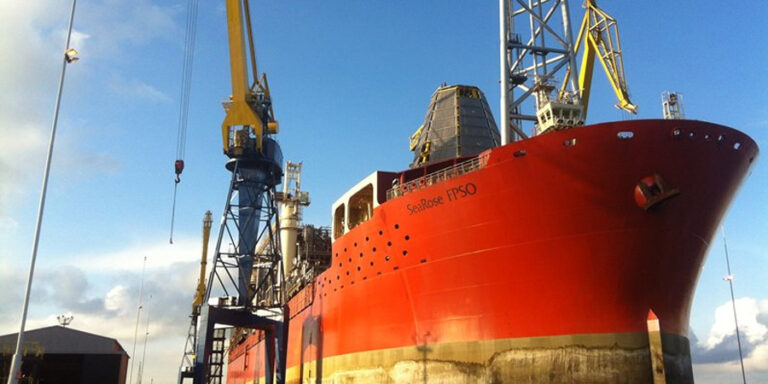 The SeaRose FPSO vessel is expected to arrive at the Harland & Wolff Belfast Yard in early 2024 and will be in the building dock for over three months.
A number of pre-arrival works have already commenced, including inspections, procurement of steel, fabrication of customized blocks and other dry dock operations.
Harland & Wolff said it would begin certain fabrication works this year so that it is fully prepared to commence refurbishment and upgrade works as soon as the vessel arrives.
Upon completion of pre-arrival workstreams, the company is expected to generate revenues of approximately £10 million in FY 2023, with the outstanding balance expected to be received in FY 2024.
At its peak, it is estimated that there will be circa 1,000 personnel working on the vessel including the Harland & Wolff staff and subcontractors.
"I am delighted that Cenovus has chosen Harland & Wolff as its preferred yard to undertake the mid-life upgrade of the SeaRose. The vessel first came into Belfast in 2012 so we will use our existing knowledge of this FSPO, in addition to applying the latest technologies and innovations for these kinds of highly specialised projects," said John Wood, CEO of Harland & Wolff Group.
"This is a significant win within our non-defence portfolio from a global, blue-chip energy group and I am pleased that we are gaining a reputation as a go-to yard for large and complex programmes. With an estimated 1,000 personnel on-site, this project will allow for further synergies in our execution, leveraging off of personnel, skill sets and supply chains that will support the upcoming FSS Programme."
The contract follows a letter of intent announced in July.
To remind, Cenovus Energy decided to extend the lifetime of the White Rose field and is moving ahead with the construction of the White Rose Extension Project, extending the life of the field from 2032 to 2038.
In terms of other recent company-related news, Harland & Wolff in June joined forces with Macduff Ship Designers, Kongsberg Maritime and Echandia, to create a UK consortium with a common vision to develop and build a zero-emissions harbour and coastal tug.
Two tugs are planned in the initial order which will feature 25.5 meters in length, have a breadth of 12 meters, and a draught of 4.85 meters along with a bollard pull of 50 tonnes.