HelioRec crosses another milestone on its way to floating solar commercialisation
French-based start-up HelioRec has completed the testing of its floating solar technology model at wave tank in Ecole Centrale de Nantes, reaching another milestone on its path to technology commercialisation.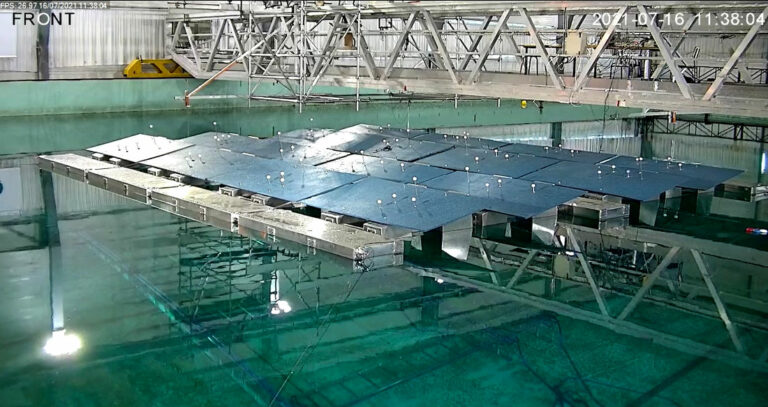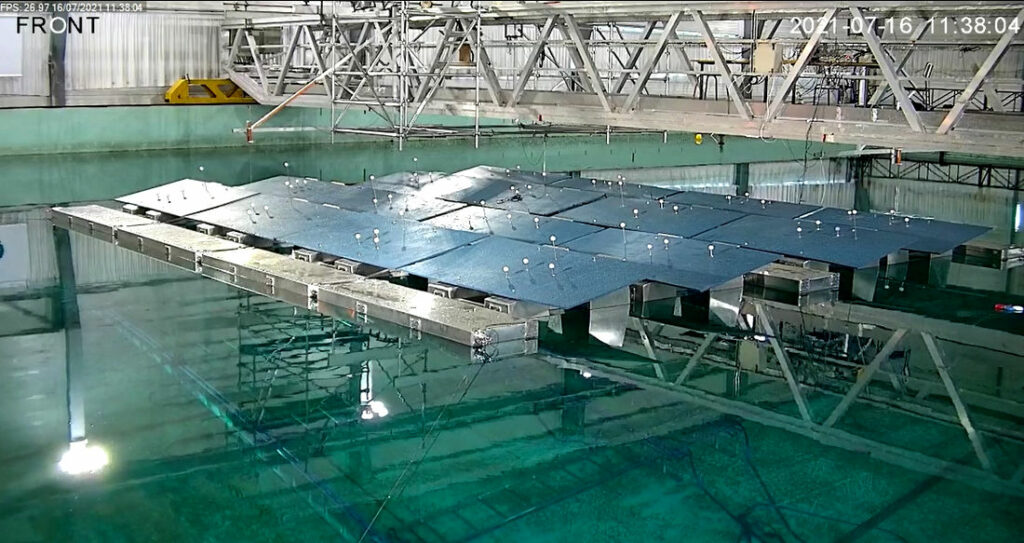 During the two-week testing campaign, HelioRec said it managed build the full-scale floating solar prototype and prove the system's 'hydro-lock' ballasting feature.
The goal of the 'hydro-lock' feature is to keep water inside the floater to give additional mass and, consequently, additional stability while avoiding extra costs from other materials for ballasting, such as metal and concrete.
The wave tank testing campaign, supported by high-level experts from Ecole Centrale de Nantes (ECN), also served for the assessment of a number of parameters, including system acceleration, mooring lines tension, loads on the connectors and different angles, against both regular and irregular waves.
"I was pleasantly surprised by excellent quality of work from ECN's specialists who constructed the prototype and conducted the wave tank testing. Everyone was very supportive and emotionally involved in the process and tried their best during the testing. Our team is looking forward for future collaboration with ECN", said Polina Vasilenko, founder and CEO at HelioRec.
The wave tank testing for HelioRec's full-scale prototype has been supported by Marine Energy Alliance project, and BPI France.
According to the company, the compact design of its floating solar system makes it easy to transport and set up. It is also accompanied with machine learning system that helps to improve efficiency in power generation operations and maintenance efforts.
HelioRec's solution is also said to leave no waste, using recycled plastic for its construction.
The French-headquartered company, with research and development facility in Russia, said its technology is suitable for applications for utility companies, ports, sea farms, offshore wind farms, as well as providing power for remote and off-grid communities.
The next step in the technology development is to install pilot project in the Netherlands as part of the PortXL accelerator, where HelioRec was accepted among 1000 applicants.
The interest from a number of Dutch companies was already expressed for the pilot installation in the Rotterdam area, and HelioRec's technical team is preparing a feasibility studies for its technology, according to the company.
To remind, HelioRec was one of the companies selected for support as part of the Marine Energy Alliance project back in May 2022.
Marine Energy Alliance is a 4-year European Territorial Cooperation project running from May 2018 to May 2022, with the funding provided by Interreg North West Europe.
The project aims to progress the technical and commercial maturity level of early-stage (TRL 3 – 4) marine energy technology companies with the overall goal of reducing the risk of device failure in subsequent demonstration phases.