Huisman unveils new crane series for subsea operations
The Netherlands-based Huisman is launching a renewed series of its subsea knuckle boom cranes for use in the subsea construction market, taking into account energy efficiency, automation and safety.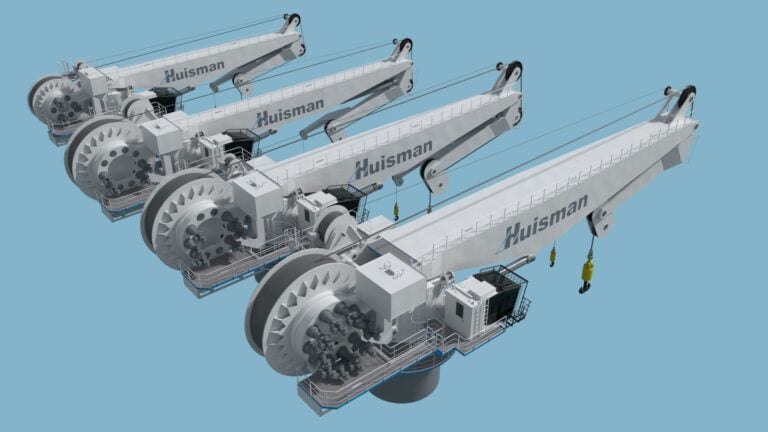 The new, optimized series includes models starting from 85mt up to 350mt and covers both setups with a winch below deck as well as on the back of the crane.
Water depths up to 3,000 meters are included as standard, while deeper water capabilities can be provided as an option. Furthermore, Huisman's patented Fiber Rope solution can be offered as an option on several models of the range to increase the lifting capacity at depth, the company said.
A fully electrically driven active heave compensation (AHC) system can optionally be integrated, Huisman added.
"With the update of our Subsea Knuckle Boom Crane series, we respond to the market need for technical improvements on existing products," said Cees van Veluw, Product Director Cranes at Huisman.
"Vessel owners have more and more interest in aiming for zero emissions on their newbuild vessels. Also, battery banks on vessels are not only used for "spinning reserve" anymore, but can serve multiple roles on the vessel, all focused on using the energy more efficiently."
To address the growing focus on lifts from one vessel to another, Huisman said it had introduced the relative heave compensation feature, which allows for compensation not only for the motion of the crane vessel but also for the motion of the other supply vessel.
Motion detection for the supply vessel is achieved through a remote motion reference unit, which transmits the signal wirelessly to the Huisman offshore crane. This setup has already been integrated into several offshore cranes and is also available as a retrofit upgrade for existing Huisman cranes.
The knuckle boom cranes come with the most recent version of Huisman's Secondary Controlled Electro-hydraulic power system as standard.
The Dutch company noted it had recently implemented the fifth generation of its motion controller HMC 05c in all of the models. With the latest improvements, interaction with the vessel's power grid has been improved to allow for use with alternative fuels, including ammonia, methanol, or LNG.