Huisman's new muscle performs first offshore wind lift (Video)
Huisman's 2,600mt Skyhook crane has performed its first lift of offshore wind monopiles at a facility in China.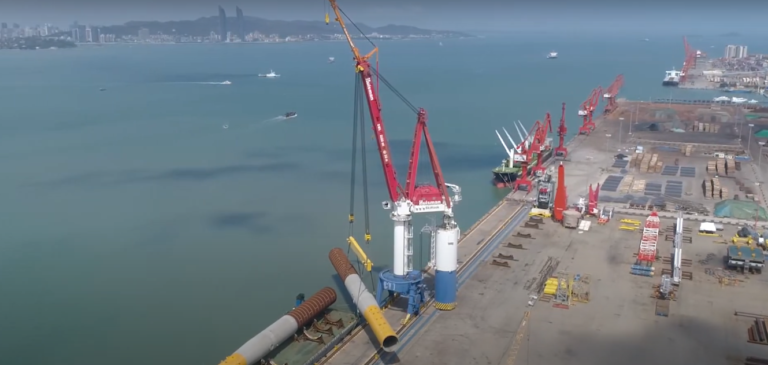 Skyhook was dedicatedly designed for load-outs of heavy equipment, like the 10,000mt tub mounted cranes for Heerema's Sleipnir and the 3,000mt offshore mast crane for Boskalis, Huisman said.
The crane is located at its own facility near Xiamen.
"With the high ambitions for offshore wind in various parts of the world, we see that more permanent yet more flexible lifting solutions are key to further efficiency gains in the logistics chain," said Cees van Veluw, Product Manager Cranes at Huisman.
"The capacity of the Skyhook matches the foundation sizes we see in the near future, while the Dual Main Hoist gives large advantages to easier connection and handling of loads. With new marshalling ports being developed worldwide, we see that the Skyhook can contribute to further optimising the logistics of offshore wind turbines and foundations."
Skyhook has a lifting height with Super Flyjib of 170m above the waterline. It features a fully electrically driven system, dual main hoist and boom stowage functionality, while versions with SWL up to 5,000mt are available upon request, Huisman stated.