Hyundai Oilbank and Air Products sign hydrogen MoU
South Korean oil company Hyundai Oilbank has teamed up with global hydrogen supplier Air Products & Chemicals to cooperate on hydrogen production, technology, and business models.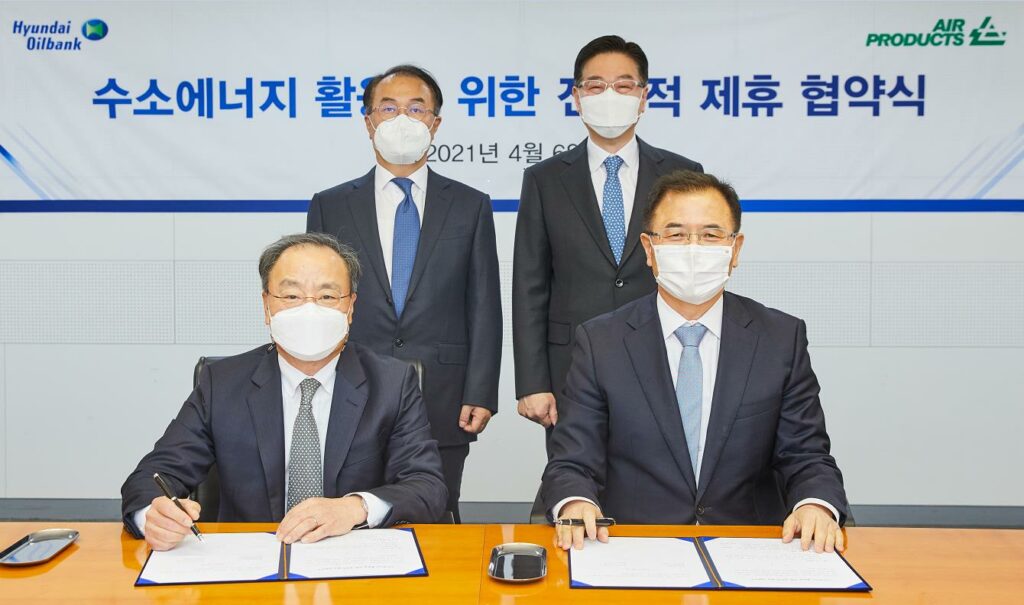 The companies signed a memorandum of understanding for strategic cooperation for the use of hydrogen energy.
Hyundai Oilbank plans to produce and sell 100,000 tonnes of blue hydrogen by 2025, and develop a green hydrogen business model.
Blue hydrogen is produced from natural gas with carbon capture technology, while green hydrogen, the cleanest one, is made from water using renewable energy and does not emit carbon.
Hyundai Oilbank plans to actively review the green hydrogen business using ammonia.
Air Products, headquartered in Pennsylvania, USA, has source technology that can extract hydrogen from various raw materials such as natural gas and refinery by-products, and also possesses the know-how of plant operation and storage and transportation related technologies such as hydrogen liquefaction.
Hyundai Oilbank plans to use Air Products' advanced manufacturing technology to produce hydrogen from inexpensive crude oil by-products and direct imported natural gas.
The company will try to reduce the ratio of the oil refining sales from the current 85 per cent to 50 per cent by 2030 in the efforts to become a more eco-friendly energy business.