IHI partners with StarFire Energy and ANGEL NAVI to further its carbon solutions endeavours
Japan's IHI corporation, a heavy-industry manufacturer, has made a step forward in cultivating carbon solutions by investing in Starfire Energy, an American carbon-free ammonia technology developer, and partnering up with ANGEL NAVI, a Japanese investment support firm.
According to IHI, its main focus is developing hydrogen and ammonia usage technologies and building related supply chains, while also creating recycling technologies to harness carbon dioxide.
As part of those efforts, the corporation is focusing on technologies to produce large quantities of green hydrogen and ammonia at low costs and use them through combustion and decomposition, and additionally, it also looks to synthesise hydrocarbons efficiently.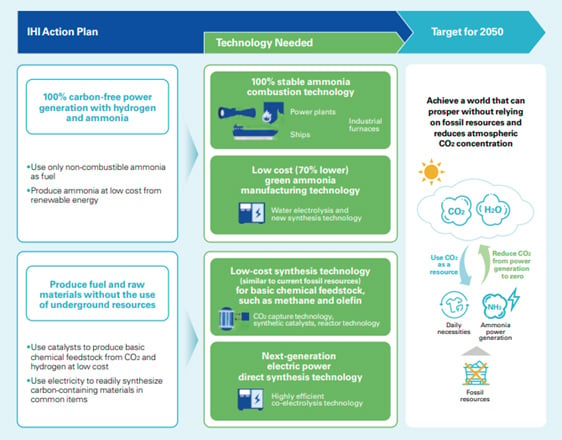 By collaborating with Starfire Energy and ANGEL NAVI, IHI plans to accelerate carbon solutions endeavours.
The American start-up Starfire Energy, headquartered in Denver, Colorado, has focused on developing a patented technology to synthesize 100% green ammonia and hydrogen.
Its modular Rapid Ramp process produces green ammonia from the air, water, and from renewables-derived electricity, and that entity also originated Prometheus Fire, a system for converting ammonia into hydrogen.
IHI said it invested in Starfire Energy's Series B funding round to accelerate efforts to strengthen and diversify the ammonia value chain.
ANGEL NAVI, headquartered in Tokyo, assists start-up companies to streamline investment endeavours, and IHI said it plans to collaborate with the firm to identify start-up investment opportunities in Japan and around the world.
One of IHI's goals is to accelerate its technology acquisitions by investing in and collaborating with the leading companies of the sector as well as advanced start-up enterprises in Europe, the United States, Japan, and elsewhere.
In October, IHI partnered up with JERA Asia, a subsidiary of Japanese energy company JERA, to explore potential ways to expand the use of ammonia in Malaysia's energy sector. According to the memorandum of understanding (MoU), the companies will jointly study ammonia co-firing in thermal power plants in Malaysia in order to contribute to decarbonisation through the expansion of ammonia use in the country.
Follow Offshore Energy's Clean Fuel on social media: