Indonesia: Over 30 Vessels Destroyed in Massive Fire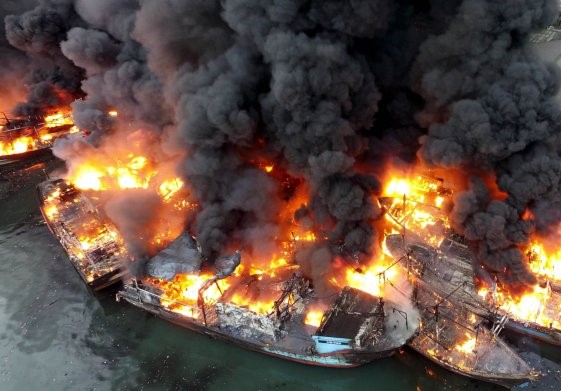 More than thirty vessels were burned in a major fire at Muara Baru Port in Penjaringan, Indonesia, on February 23, 2019.
The incident in the subdistrict of North Jakarta affected a total of 34 vessels, according to DPKP DKI Jakarta, a regional fire and rescue agency.
There were no fatalities caused by the fire. However, three people were injured and taken to a local hospital.
One hundred and sixty firefighters, twenty-three fire trucks and three fireboat units were battling the blaze which was extinguished at 6:00 a.m. (local time) on February 24.
As informed, the fire had started onboard a fishing vessel during welding operations. Due to strong winds, it spread quickly to other ships anchored at the port.
Further investigations into the cause of the fire have been launched, the agency added.
#InfoKebakaran Sabtu, 23 Februari 2019 | Sudah berjalan sekitar 7 jam masih terus dilakukan pemadaman oleh petugas dengan pengerahan 23 unit di lokasi pelabuhan muara baru pic.twitter.com/P8o3QS13uV

— DPKP DKI Jakarta (@humasjakfire) February 23, 2019
World Maritime News Staff; Image Courtesy: Jakarta Fire and Rescue Agency