Inter-array cable laying work begins at first large-scale US offshore wind farm
Cable-laying operations for the inter-array cables are about to begin at the 800 MW Vineyard Wind 1 offshore wind farm in the US.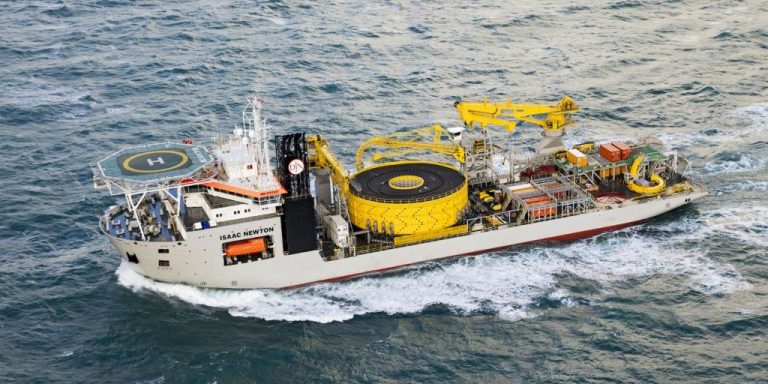 The work, carried by Jan De Nul's vessel Isaac Newton, will begin with array cable lines five and six.
The vessel will remain on-site until early October, said Vineyard Wind, a joint venture between Avangrid and Copenhagen Infrastructure Partners (CIP).
The C-PIONEER will be acting as a stationary support vessel, supporting cable-pulling activities for the inter-array cables.
The trenching support vessel ADHEMAR DE SAINT-VENANT will be performing cable trenching and burial works.
The F/V SEAFARER will be operating around the activities as a safety vessel to monitor traffic and facilitate safe movement of fishing vessels, recreational craft, or other transiting vessels around the work sites and project vessels.
Jan De Nul and the TFKable Group-owned JDR will deliver almost 210 kilometres of 66 kV cables that will connect the project's 62 GE Haliade-X turbines and transfer electricity to an offshore substation for transmission to the grid.
From the offshore substation, the electricity will be delivered to shore via an export cable to be supplied by Prysmian.
The 800 MW Vineyard Wind 1 is located 15 miles (about 24 kilometres) off the coast of Martha's Vineyard and is the first commercial-scale offshore wind farm to be approved for construction in the US.
Once fully operational in mid-2024, the 806 MW offshore wind farm is expected to generate electricity for more than 400,000 homes and businesses in the Commonwealth of Massachusetts, create 3,600 Full Time Equivalent (FTE) job years, save customers USD 1.4 billion over the first 20 years of operation, and is expected to reduce carbon emissions by more than 1.6 million metric tons per year, the equivalent of taking 325,000 cars off the road annually, according to information shared earlier by Avangrid and CIP.