IOG to award North Sea rig contract in coming weeks
Independent Oil and Gas (IOG) expects to award a contract for a drilling rig for its Core Project located in the Southern North Sea (SNS) soon.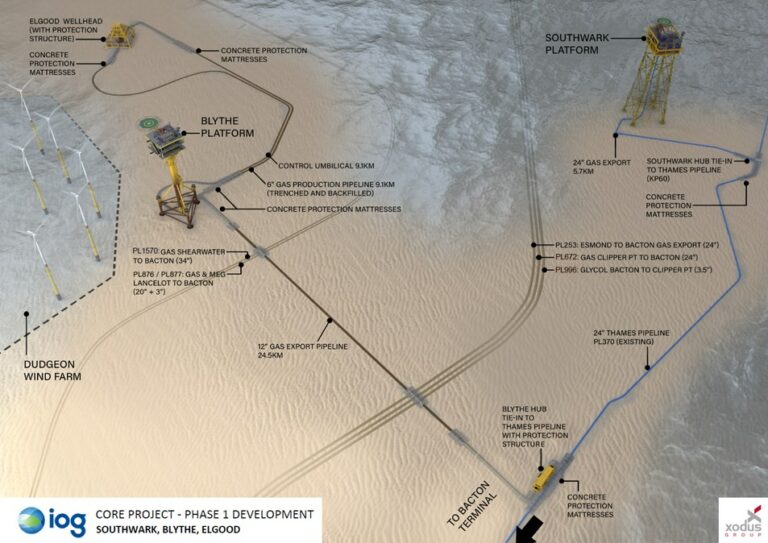 In an update on Thursday, IOG said that the award of a jack-up rig contract for the five-well Phase 1 development drilling campaign is "expected in the coming weeks".
The drilling campaign is due to start in the first half of 2021.
IOG made the final investment decision (FID) on Phase 1 of its Core Project back in October 2019.
The Core Project comprises 410 BCF of 2P+2C reserves and resources across six discovered UK SNS gas fields.
Phase 1 comprises the development of the Southwark, Blythe, and Elgood fields through a total of five wells, and the recommissioning of the Thames Pipeline and onshore TRF.
The Phase 1 FDP was approved by the OGA at the end of April 2020, representing a clear government endorsement of the plans.
Furthermore, key contracts have been awarded for the Phase 1 project's subsea infrastructure, platform fabrication and installation, and well management.
The first of these contract awards was to Subsea 7, who will handle the project management, engineering, procurement, construction and installation of the SURF scope.
For Phase 1 well management services, a competitive tendering process led to the signing of a contract in early June with Petrofac.
With Petrofac's assistance, IOG has been progressing further tendering processes for the jack-up drilling rig and numerous other offshore drilling services and tangibles for the five-well Phase 1 development drilling campaign.
Detailed well planning, design, and relevant regulatory processes are also making good progress.
IOG also acquired two unused subsea trees and wellheads which have undergone extensive testing. One of these is intended for use at the Elgood field with the other reserved for a future subsea tie-back development.
In addition, IOG in early August awarded the EPCI platform contract to Dutch contractor HSM, covering the design, engineering, procurement, construction and installation of the Southwark and Blythe normally unmanned installation platforms.
IOG said that HSM is making steady progress with procurement and fabrication activities despite the challenges of Covid-19 restrictions.