IUMI Worried over Containership Fires and Mis-Declared Cargoes
Containership fires and the increasing occurrence of mis-declared cargoes is a worrying trend for marine insurers,  as pointed out by Sean Dalton, the International Union of Marine Insurance (IUMI) Cargo Committee Chair.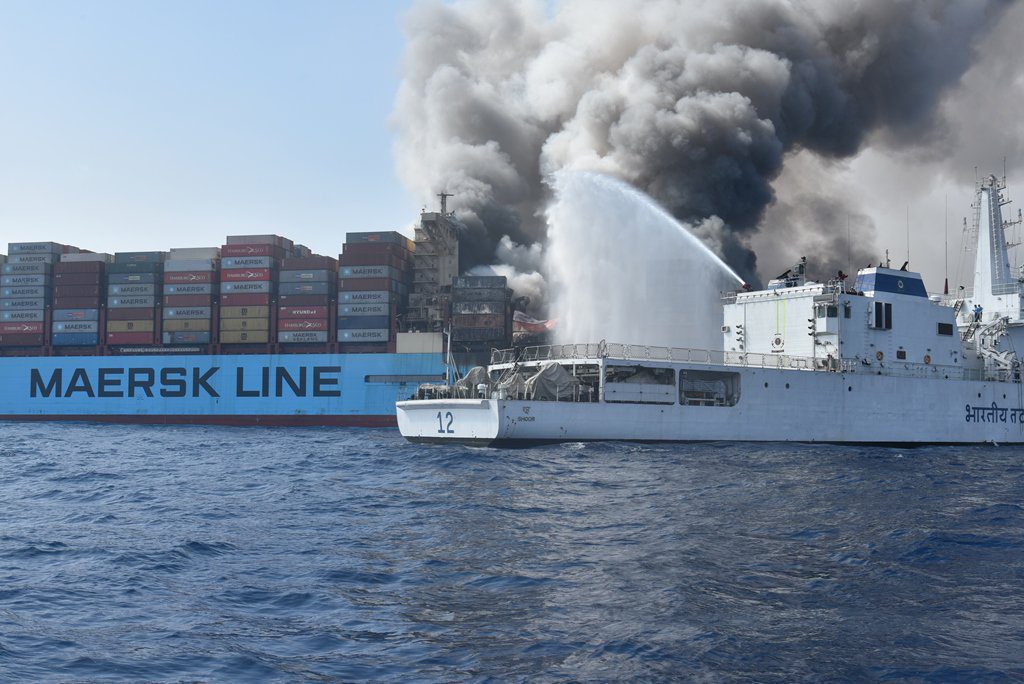 "The fire onboard Maersk Honam, which tragically killed five crew members, is the most recent example of this issue and the loss is likely to generate the largest general average claim in history. As vessels continue to grow larger, the accumulation of cargo values coupled with the increasing risk of onboard fires needs to be addressed urgently by all stakeholders," he added, speaking during IUMI's annual conference in Cape Town, South Africa.
The fire that claimed five lives in March this year has been identified as a perfect reminder of the importance of cargo insurance.
Namely, Maersk Line has declared general average, under which all parties with a financial interest in the voyage are to proportionally share the losses resulting from the incident. Shippers who did not purchase a general average coverage insurance will be liable to pay a proportional portion of the damage.
Other industry trends to keep in mind
Cyber threats continue to concern cargo insurers, not only in terms of immediate damages but also because of potential disruption to the onwards supply chain. According to IUMI, digitalization and big data hold the potential to provide cargo underwriters with better tools and capabilities to manage their business.
Speaking in Cape Town, Itai Sela, CEO of Israeli cyber-security specialist Naval Dome, called on the removal of the Clause CL 380 that excludes damage to computer systems, code or software from insurance, especially at a time when the maritime industry is moving towards connected, cloud-based technologies and autonomous operation.
"Why do insurers continue to implement CL 380 when there is a high probability that a computer will be hacked and, importantly, when there are many different ways and means of protecting shipboard computer systems?" Sela asked IUMI members.
"What we have is an industry on the cusp of a technological change. The rapid implementation of advanced autonomous technologies and machine learning capabilities will change the way in which ships are operated, but such developments will also leave the industry open to more system breaches and unauthorised intrusion unless there are systems and policies in place to mitigate against such risks."
Sela suggested the maritime industry should follow the automotive sector's lead. The sector has introduced software-based safety solutions to road vehicles that, despite not being initiated by the insurer, have proven to protect drivers (and insurers) against theft or damage, which helps towards mitigating risk and reduce premiums.
According to IUMI, the marine insurance sector continues to come to terms with the potential impact of cyber exposure (both malicious and non-malicious); incoming environmental regulations and their impact on hardware and operations; autonomous vessels; bunker contamination; and the accumulation of risks that quickly build as containership continue to grow both in size and capacity.
Chair of the Ocean Hull Committee, Mark Edmondson, highlighted a continuing deterioration of premium income against the more positive picture of an improving risk profile.
"Whilst the shipping industry in general is showing some positive trends and the claims climate remains relatively stable, particularly for total losses and major partial losses, there does not appear to be any direct correlation between that and overall underwriting performance," he said.
"However, we estimate around USD 100 million of capacity has been removed from the market over the past year due to very low start-up activity and the withdrawal of a number of high profile hull insurers. Facilitisation would appear to be under increasing pressure due to worsening performance and heightened regulatory scrutiny. Overall the deterioration of underwriting results, over what has been a considerable period, has appeared to have triggered a brake in the decline in market conditions."
An enhanced risk profile stemming from better quality tonnage and greater regulatory influence has encouraged a consistent improvement in the frequency of major casualty. However, the ocean hull market is still being buffeted by lower asset values, reduced utilisations, year-on-year erosion of premiums and ever present volatility, IUMI said.
On the final day of the event, IUMI elected Richard Turner, European Director of Global Risk Solutions at RSA Insurance Group, as the new president. Richard succeeds Dieter Berg whose four-year term of office has been completed.