Jumbo completes transportation of foundations for Yunlin OWF
Jumbo has completed the transportation of components for 40 foundations for the Yunlin offshore wind farm in Taiwan.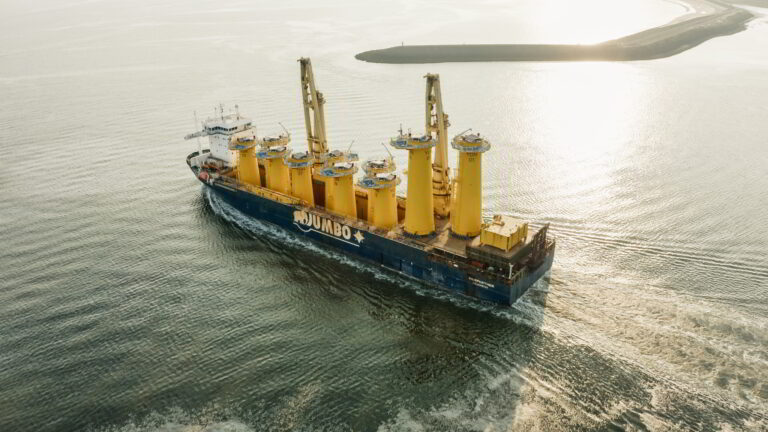 For the transportation part of its Transport & Installation contract signed in 2019 with Yunneng Windpower Co. (a Taiwanese subsidiary of the German developer wpd), Jumbo mobilised ships from its own Heavy Lift Vessel (HLV) fleet, together with subcontracted deck carriers and HLVs from third parties.
The company transported 40 monopiles and 120 monopile sections from Germany and 40 transition pieces from the Netherlands to Taiwan.
The 40 monopiles were manufactured by Steelwind Nordenham in Germany, which also supplied 120 segments for the 40 monopiles manufactured by Taiwan's Formosa Heavy Industries (FHI) Corporation for the 80-turbine Yunlin project. The 40 transition pieces transported by Jumbo from the Netherlands were produced by Smulders, with the remaining 40 delivered by Taiwan's CTCI Machinery Corporation.
The transport of components required no less than 21 intercontinental voyages, at times with ten TPs per voyage, according to Jumbo.
"We highlighted potential bottlenecks in the port logistics in Taiwan well in advance, tackling them in an open and candid fashion to safeguard our client", said Boudewijn van der Garden, Jumbo Commercial Manager specialised in Offshore Renewables. "Moreover, we supported direct berthing at the fabrication yard in Germany; this saved a lot of time. We re-used the saddles and other sea-fastenings; this saved a lot of money".
Jumbo now has left the installation part of the contract to complete, which includes installing 80 transition pieces and performing grouting work. The company said that additional support services such as monopile cleaning specialists and TP grouting teams would be subcontracted.
The first monopile foundation at the Yunlin offshore wind farm was installed in December 2020 by Sapura Energy Berhad.
The Yunlin offshore wind farm will feature 80 Siemens Gamesa 8 MW turbines installed some 8 kilometres offshore. The wind farm is scheduled to start producing electricity this year.