Singapore's Jurong Port Tank Terminals Ready for Operations
Singapore's Jurong Port Tank Terminals (JPTT) is ready to welcome customers after the completion of the first phase of works in Pulau Damar Laut in Jurong Port.
An opening ceremony on July 29 made 252,000 cbm of clean petroleum product storage capacity available to the market, according to Chee Hong Tat, Senior Minister of State, Ministry of Trade and Industry, and Ministry of Education.
The terminal is the result of a joint venture between Singapore's Jurong Port and Germany-based tank terminal operator Oiltanking, who joined forces for the project in 2015.
Designed to store and handle both clean petroleum products and petrochemicals, the liquid bulk terminal will be supported by four berths with deep draft of up to 17.6 meters capable of handling up to 180,000 dwt tankers.
Construction of phase one started in May 2017 and, once phase 2 is completed, the terminal is expected to have total capacity of 550,000 cbm.
"The opening of Jurong Port Tank Terminals (JPTT) is an integral part of Jurong Port's transformation to offer a port-centric solution for Jurong Island," Chee Hong Tat said at the opening ceremony.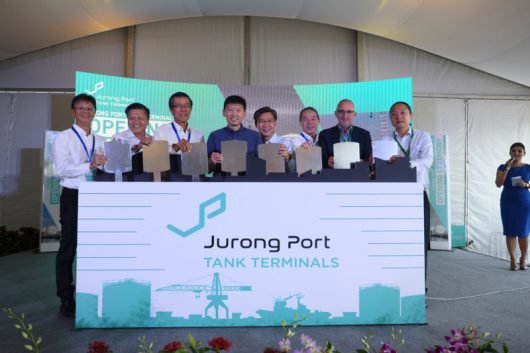 "The need for supporting infrastructure to manage the increasing demand in Asia for petroleum products created the need for JPTT," Douglas van der Wiel, President of Oiltanking Asia Pacific, said.
"The terminals will be able to handle the demand from the region and help strengthen the integrated terminal network concept and overall value offering to the market."
Another advertised benefit of the new terminal is the increased product transfer rate compared to older generation tank terminals. According to Jurong Port, ship loading and unloading will be up to 50% faster due to the use of large capacity pumps and jetty arms.
JPTT is expected to handle about seven million tons of clean petroleum product annually.
Image Courtesy: Jurong Port