K Line, KHI to use artificial intelligence for autonomous surface ships
Japanese shipping company Kawasaki Kisen Kaisha (K Line)  and compatriot shipbuilder Kawasaki Heavy Industries (KHI) have signed a co-development contract to create an AI-based marine machinery operation support system that will be deployed in autonomous vessel operations in the future.
As informed,  the system will have such functions as failure prediction/ diagnostics, condition-based maintenance (CBM), and optimum operation support, based on the data analytics of marine machinery operation data using AI. It will not manage a specific part of equipment but the marine machinery as a whole, including the main engine and generators.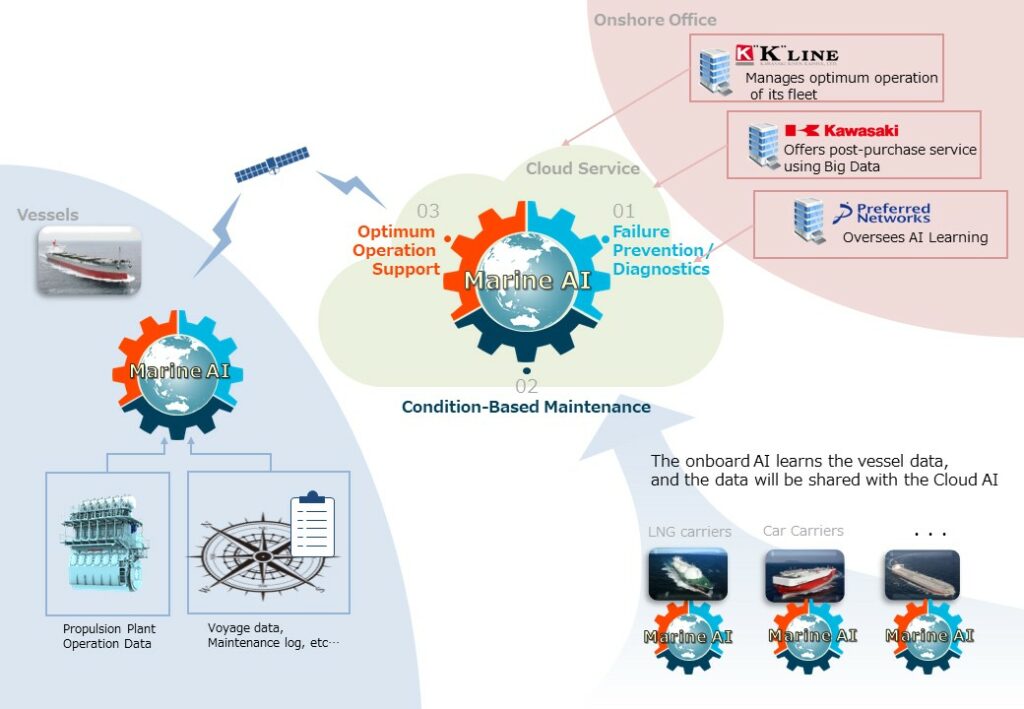 The partners plan to first target those vessels with diesel propulsion plants, and then those with various types of propulsion systems such as steam turbines and electronic propulsion systems in the next phase. Specifically, the system will be designed to support crew onboard as well as ship management personnel on land, providing useful information on failure predictions and failure diagnostics.
"The Marine AI will be implemented both onboard and in the cloud system. The one onboard learns the vessel's operation data and uses them to diagnose on a real-time basis. The one in the cloud system periodically collects the data accumulated on each vessel, and centrally uses them for further learning, allowing itself to become smarter and offer failure prediction and diagnostics as well as optimum operation support for any type of vessels," according to the companies.
With the AI-controlled machinery system, the Japanese firms want to prevent major engines failures and to ultimately improve fuel consumption and contribute to the greenhouse gas reduction.
"A proof-of-concept has been established for the core technology of the Marine AI for failure prediction and diagnostics. With abundant data collected from various ships via Kawasaki-Integrated Marine Solutions, as well as such data obtained from the latest sensors that were not available before, KHI and "K" Line will further proceed on developing the Marine AI that is versatile enough to be applied for any types of vessels," K Line stated.
The announcement of the contract follows the company's move to invest in an ammonia-fuelled ship project, announced in late October. The project got a green light from the Japanese largest public management organization New Energy and Industrial Technology Development Organization (NEDO).
In order to achieve the International Maritime Organization's target to reduce greenhouse gas (GHG) emissions, this project will use ammonia as marine fuel to develop, own and operate propulsion systems and hulls ahead of other countries. The aim is to introduce ammonia-fueled ships under Japan's leadership as early as possible by 2028.