K Line, partners forge ties with JFE Steel on creation of CCS value chain rooted in Japan
Japanese industry majors Japan Petroleum Exploration Co. (JAPEX), JGC Holdings Corporation (JGC HD), Kawasaki Kisen Kaisha (K LINE), and JFE Steel Corporation have joined hands to embark on a collaborative evaluation with the goal of establishing a carbon capture and storage (CCS) value chain rooted in Japan.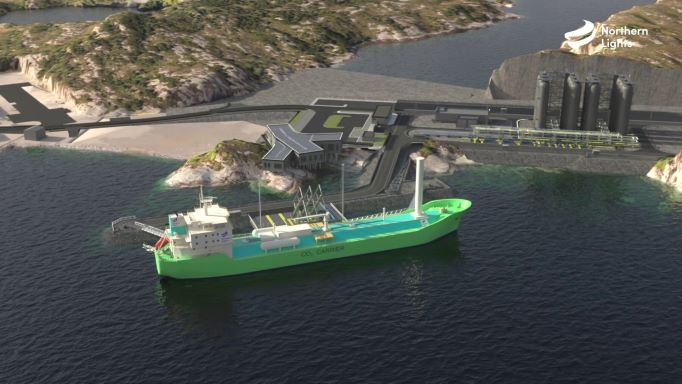 This effort aligns with their ongoing joint study on CCS in Malaysia alongside Petroliam Nasional Berhad (PETRONAS) and has resulted in the four companies signing a Memorandum of Understanding (MOU) on June 19.
Namely, JAPEX, JGC CORPORATION, an operating company of JGC HD for overseas engineering, procurement, and construction, and K LINE, are doing a joint study with PETRONAS.
This study encompasses various aspects such as identifying suitable sites for CO2 storage in Malaysia, conducting technical evaluations, exploring CO2 capture and transport from PETRONAS's LNG complex in Bintulu, and assessing the potential of transportation from sources outside Malaysia, including Japan.
As part of their ongoing study, the companies have actively engaged in investigating and holding dialogues with potential candidate emitters, specifically focusing on the possibility of CO2 transportation from Japan. Through these dialogues, a shared vision for the future direction of the study coincided with the objectives of JFE Steel, which has been considering the reduction of CO2 emissions from its operations.
This has resulted in an MoU to conduct the evaluation with the aim of establishing the CCS value chain, from CO2 separation and capture at JFE's steelworks in Japan, to marine transportation of liquefied CO2 to the receiving point(s) in Malaysia. The valuation will also include an estimation of required facilities and costs.
The participants said that the evaluation will be aligned with the study of CO2 receipt and storage in Malaysia within the scope of the study with PETRONAS.
"By the establishment of the international CCS value chain through the evaluation, JAPEX, JGC HD, "K" LINE, and JFE Steel aim to contribute for the realization of carbon neutrality by 2050, including the realization of de-carbonized society in Asia targeted by Asia Energy Transition Initiative (AETI)," a joint statement reads.
K Line will operate the world's first liquefied CO2 ships that are currently taking shape for Northern Lights JV at Dalian Shipbuilding Industry Co. (DSIC).
The 7,500 m3 ships are slated for delivery in 2024 and they are intended for loading captured and liquefied CO2 from European emitters, including the Norcem Brevik and Hafslund Oslo Celsio carbon capture facilities, and transporting it to the Northern Lights receiving terminal in Øygarden in western Norway.

.