KenzFigee to provide pipe handling cranes for two Spliethoff newbuilds
Dutch offshore lifting equipment provider KenzFigee has been awarded a contract by Amsterdam-based shipping company Spliethoff for the delivery of pipe handling gantry cranes for their two newbuild multipurpose DP2 B-type vessels, currently under construction at the Mawei Shipyard in China.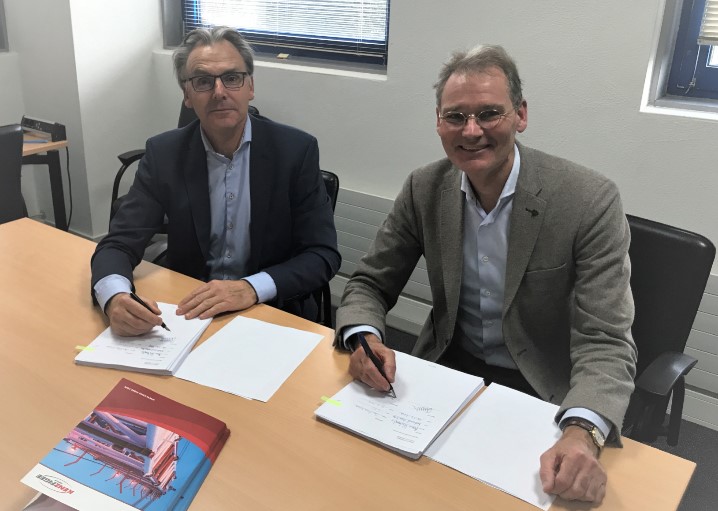 KenzFigee said that the two pipe handling gantry cranes were specially developed and designed to move pipes from a pipe handling platform to a position in the cargo hold and vice versa.
These specially designed electric driven gantry cranes will contain a specially designed anti-sway and semi-automatic movement system enabling the crane to operate unmanned in the cargo hold to further enhance safety and production, especially during offshore operations.
The cranes will also have redundant power supply and a special integrated interface with the hatch cover system for more loading capacity. The pipe handling gantry cranes are removable.
Each crane will each have an SWL capacity of 140 tonnes, a width of 19.18 meters and a weight of 168 tonnes. The length of the cranes is adjustable for handling pipe sections of 12.5, 18, and 25 meters and can be configured to handle multiple pipes.
The gantry cranes will be built, assembled and tested at the premises of KenzFigee in Zaandam where after they will be disassembled into transportable parts and shipped to the Mawei Shipyard for installation on the B-type vessels during the first quarter in 2021.
This type of vessel combines the intake of a multi-purpose vessel with a DP2, the station-keeping ability of up to Bft 6, making it suitable for supplying large volumes and heavy cargo directly offshore.
Arne Hubregtse, executive board member of Spliethoff, said: "Our state-of-the-art DP2 B-type vessels are, with their large intake and DP2 station-keeping ability of up to Bft 6, ideal for supplying large volumes and heavy cargo directly offshore.
"With the customized pipe handling gantry cranes, we are able to safely and efficiently load and discharge pipes, both on and offshore".
In other related company news, KenzFigee recently expanded its services to the UK with the creation of a new unit and signed a memorandum of understanding (MoU) for the provision of offshore crane services with Saudi Arabia's Zamil Shipyards.
Related news
List of related news articles