Kooiman to build second LNG bunkering pontoon
The Dutch Shipyard Kooiman was engaged to build a second LNG bunkering pontoon, the FlexFueler 002, for Belgium's Fluxys and Titan LNG.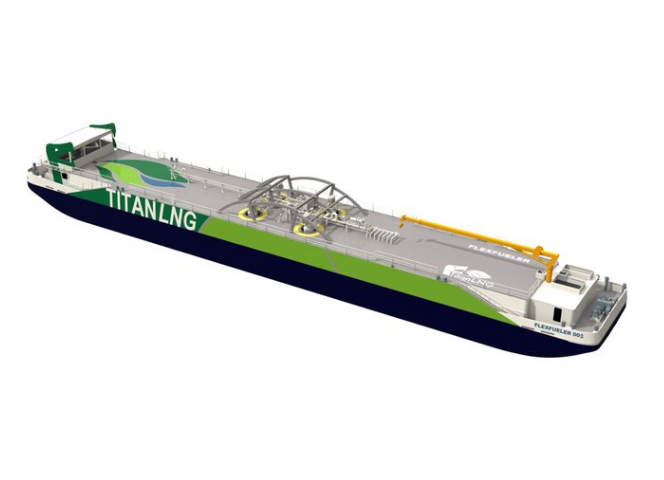 Fluxys and Titan LNG have joined forces to build the FlexFueler 002, a bunkering pontoon to make liquified natural gas (LNG) a more widely available as shipping fuel in the Antwerp port and region.
The pontoon will be commissioned by mid-2020 and support the shipping industry in its switch to cleaner operations. Titan LNG will be the long term operator of the pontoon.
The pontoon, that will be 76,40 meters long and 11,45 wide, will be equipped with four vacuum insulated type C cargo tanks capable of transporting up to 370 cubic meters of LNG.
The FlexFueler 002 LNG bunkering pontoon will be based in the port of Antwerp. Fluxys has a concession to provide LNG bunkering services and currently accommodates truck to ship bunkering on the site.
FlexFueler 002 is the second Titan LNG developed pontoon of its sort and identical to FlexFueler 001, which will come into service in Amsterdam in approximately 3 months.