KR: Hyundai-ISCS for Smart Ships Gets Cyber Security Type Approval
Classification society Korean Register (KR) has granted its first cyber security type-approval certificate to Hyundai Electrics for its Hyundai-ISCS, a new smart integrated communication system for next-generation ships.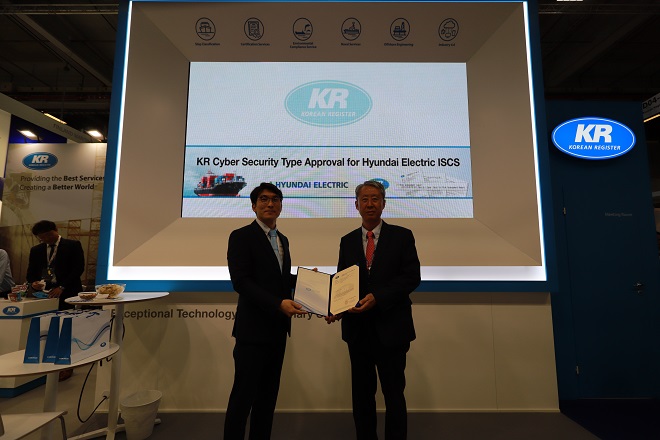 The system is said to provide 'comprehensive cyber security protection'.
A formal presentation between KR and Hyundai Electrics took place at Nor-Shipping 2019, in Oslo on June 5.
The cyber security type approval has been developed by KR based on international standards. The technical functions, security and audit functions are all inspected and assessed for confidentiality, integrity and availability, while the backup and recovery functions are inspected and analyzed for their response strength following a cyber incident, according to the classification society.
Hyundai-ISCS is a joint product developed by Hyundai Electric and Hyundai Heavy Industries (HHI). It provides a range of information on board ships, acting as an interface between more than 20 different types of equipment including safety systems and sensors, and altogether combines to significantly enhance the ship's smart abilities.
Hyundai Electric applied for KR's cyber security type approval to clearly demonstrate to the industry that the system can provide comprehensive protection against security threats faced by today's onboard functions.
"This is the very first cyber security type approval certificate to be issued anywhere in the world, but it reflects the speed of development in this sector and rising level of risk to on board systems from cyber-attack," Hyung-chul Lee, Executive Vice President of KR, commented.
As explained, demand for certification services for cyber security is expected to increase reflecting the fact that an increasingly diverse smart ship technologies are being used on board vessels and the overall number of applications has increased dramatically in recent years.